If you've been to Ableton Loop this year, you might have already encountered this new foot pedal tailored for the use with Ableton Live as I heard it made quite splash there. State of the Loop by KB Devices was created by Pierre-Antoine Grison after helping an artist who had expressed the wish to be able to use Live as a looper, but without needing to look at the computer screen. Pierre is now running a Kickstarter project for 200 units of State of the Loop, a controller dedicated to Ableton Live's Looper, but it can do much more. The Kickstarter project is still running until Friday, December 7, but the early bird pledges are already gone.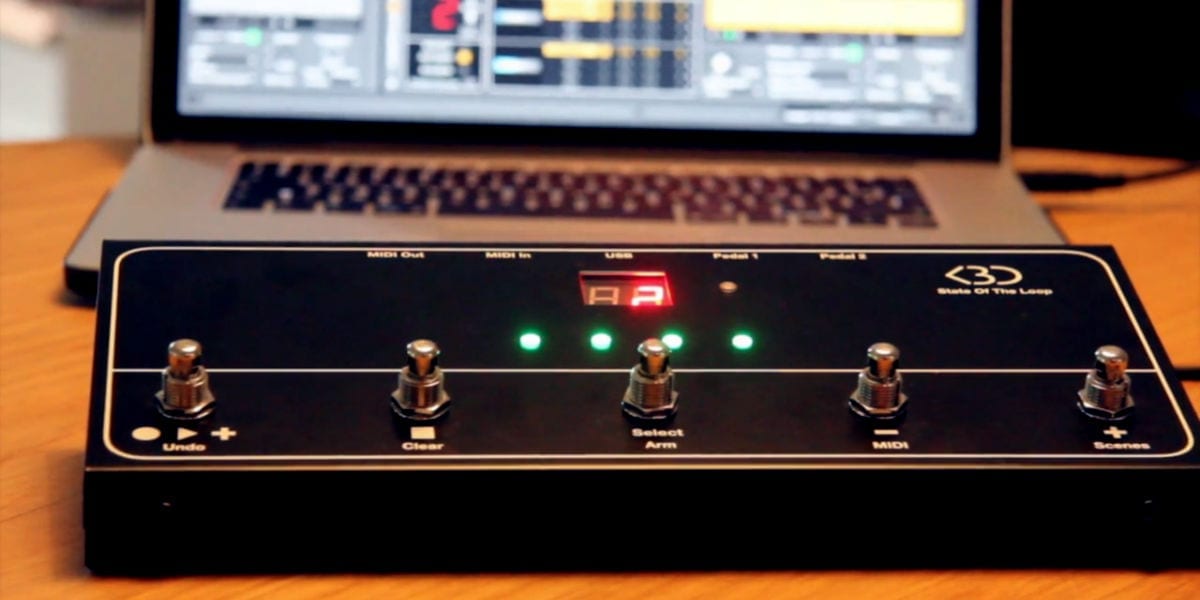 So what can State of the Loop do? It can control various Looper instances in Live, record clips directly into Session View, launch Scenes and control an unlimited number of parameters in your Live Set. So, essentially it's the perfect fit for anyone who'd like to use Live as an easy to use replacement for a hardware looper and/or control Ableton Live via a foot pedal, because they want or need to be hands free.
Record with Live's Looper:
Control an unlimited number of Loopers

Display the state of each Looper (Red = Recording / Green = Playing / Blue = Overdubbing / Stopped with a sample = White /

Stopped empty = Off)

Arm tracks holding the Select button
Record clips directly in Session View:
Select any track (audio or MIDI)

Start recording directly on the first available slot

Option for "Fixed Length" recording
Launch Scenes:
Select Scenes with the [+] and [-] buttons

Launch Scenes and display their color and name

Jump to the currently playing Scene with the [Select] button
Control parameters:
2 Expression Pedal inputs with "dynamic mapping"

Each device controls its own parameters

Control an unlimited number of parameters with only 2 pedals
Specifications:
Sturdy metal case

USB powered

USB or MIDI connection for longer distances (up to 15m/50ft)

Easy configuration / Very light on the CPU

Adjustable LED Brightness

Weight : 1.7 kg / 3 lb

WxLxH : 30 x 13 x 6 cm / 12 x 5 x 2.5 inches

100% Made in France
Watch the demo video:
State of the Loop requires Ableton Live Suite since it employs Max for Live to integrate the foot controller so deeply. Shipping is estimated to happen in March 2019. You can get a State of the Loop controller for 260€ or one of 30 beautifully designed limited editions for €350 (or just €300 during Black Friday) by pledging for either in the Kickstarter Project.