What you get:
64 presets (42 Drift presets, 22 fully macro mapped Instrument Racks)
1 self-installing Live Pack with integrated lesson in Live's Help section
Size:
Installation size: 579 KB
Download size: 664 KB
System Requirements:
Ableton Liv 11.3 Standard or up
OS X or Windows
A Flexible Synth for Sound Versatility
The beauty of old analogue synths are the little imperfections in sound. Whether it's a slight detuning or the two oscillators slowly moving in and out of sync with each other, it makes the machine seem less predictable and sterile, but more alive. This was the inspiration for Drift, and with all the presets I've created over the last month or so I wanted to showcase the flexibility of the new synth in Live.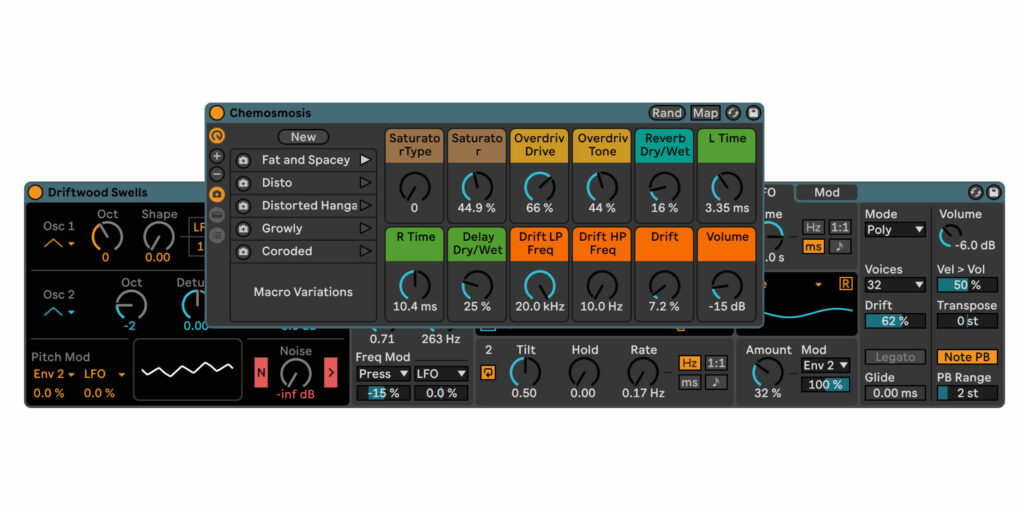 Evolving Sounds for More Depth in Your Music Production
Each of the sounds I've created has depth and at least small modulations keeping the interest going. A lot of the presets change and evolve noticeably over time, others in more subtle ways. If you have an MPE ready controller, experiment with aftertouch pressure and slide for more complexity and variation in sound and timbre. Also make use of the mod wheel or slider.
All of the presets included in this Live Pack are the outcome of weeks of careful sound design. They can be used just in various musical genres. From house and techno, to IBM, ambient or pop music. Each of the 22 Instrument Racks also contains at least four macro variations, effectively more than quadrupling the amount of presets available.
You can also drop individual Drift presets into the Drift Instrument Racks to instantaneously create further presets that come already pre-mapped, giving you even more varied sounds and possibilities.
Dead Simple Installation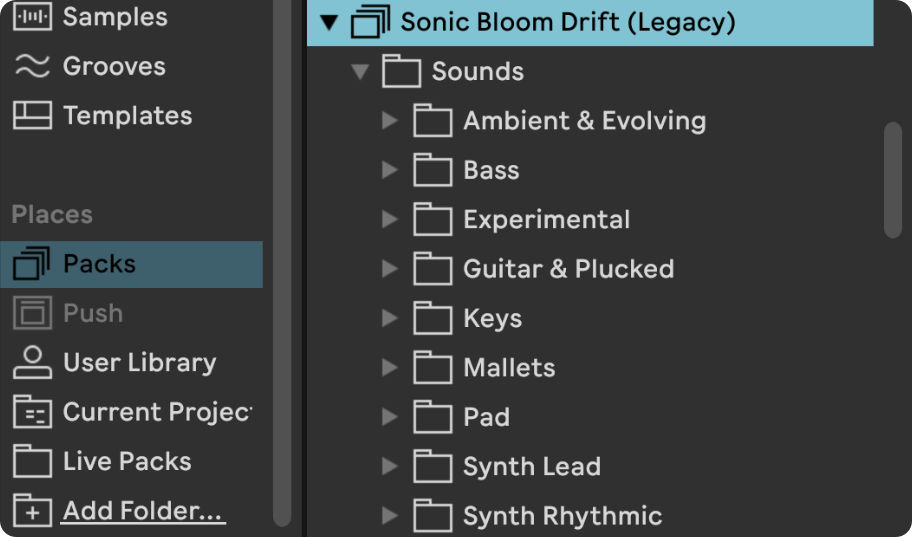 The Drift Live Pack comes as a self-installing Live Pack just like those from Ableton. Double-click it or drag and drop it into Live 11.3, then follow the installation. Once installed, you'll find it under Packs in Live's Browser. The individual presets can also be found under their respective Sounds category, or under Instruments > Drift.