So far you could use the freemium web app by Remotify to create MIDI remote scripts aka Control Surfaces for Ableton Live 9 and 10. With Live 11 using Python 3, the web app's won't work anymore. Enter Control Surface Studio, also by Remotify, which is a stand-alone software for Mac and Windows, to make your own Control Surfaces for Live 9 to 11.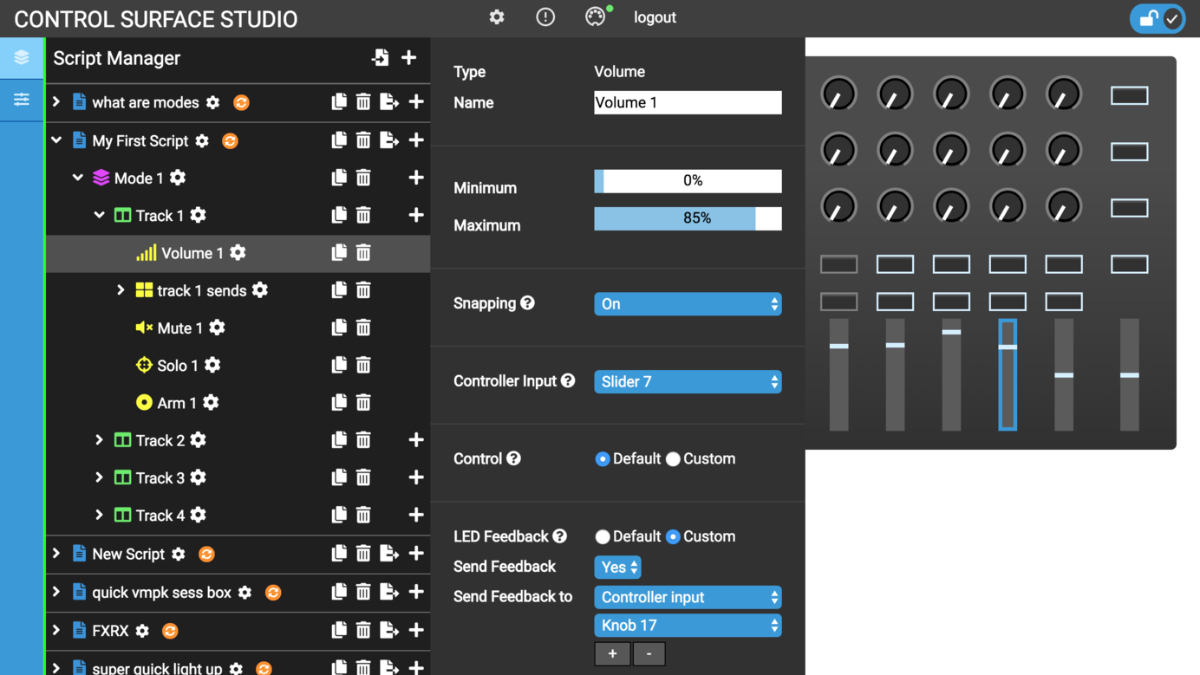 If you'd been using the web app before, the biggest change is that you have to build a controller template first unless you intend to use the MIDI Fighter Twister or the AKAI MIDIMix templates. For those who want to use the app to make several MIDI remote scripts for one particular controller, this is fantastic.
The initial setup will take a bit longer, but save you time in the long run. Doing it this way could be a bit tedious for anyone though who wanted to write one MIDI remote script each for several of their controllers or even for a controller that doesn't have a fixed amount of buttons and knobs (like the gesture controller MI.MU gloves I use).
Once you've set up your controller template, you can now begin making your script. Mappings are arranged in modes, with unlimited modes permitted. This way you can use the same buttons or knobs to control different parameters in Live, e.g. mixer mode and device control mode.
Since you have so many options and multiples of your controller's pads, faders and rotaries available, I'd recommend starting with a simple script to learn all the things that can be mapped. Then sitting down, and making a plan on what you want to map to what is probably best. The app is well documented in written tutorials and videos.
Watch the tutorial:
New and notable is the feature that installs scripts directly into Ableton Live with a click of a button. Additionally you can save and manage multiple scripts inside the app, fully customise LED feedback and map more than eight device parameters.
Here's a list of all new features:
Undo/redo
Return track controls
Include/ignore folded tracks
Easy switching of script's assigned MIDI controller
Install script's directly into Live from the app
Save and manage multiple scripts within the app
Drag and drop mapping arrangement
Increase/decrease parameter values using buttons
Fully Customisable LED feedback options
Map more than 8 device parameters
Control devices located inside chains
Create custom device parameter banks
Selected device scrolling
Highlighted scene navigation
Highlighted scene & track scrolling
Red box scrolling
While there is a slight learning curve to creating scripts with Control Surface Studio, it's well worth it. You can create the control surfaces for your controllers you always wanted, whether no native control surface exists or you want to craft one that fits your needs better.
Control Surface Studio is currently available at Remotify's website for USD 89 (full price USD 149). The free as well as the pro web app, available currently for USD 67 (full price USD 99) work for Live 9 and 10. All versions are one time payments with a lifetime access.