What you get:
35 presets (34 fully macro mapped Instrument Racks, 1 MIDI effect rack)
3 Live Sets
1 self-installing Live Pack with integrated lesson in Live's Help section
Size:
Installation size: 502 MB
Download size: 163.8 MB
System Requirements:
Ableton Live 9.7 Intro or up
OS X or Windows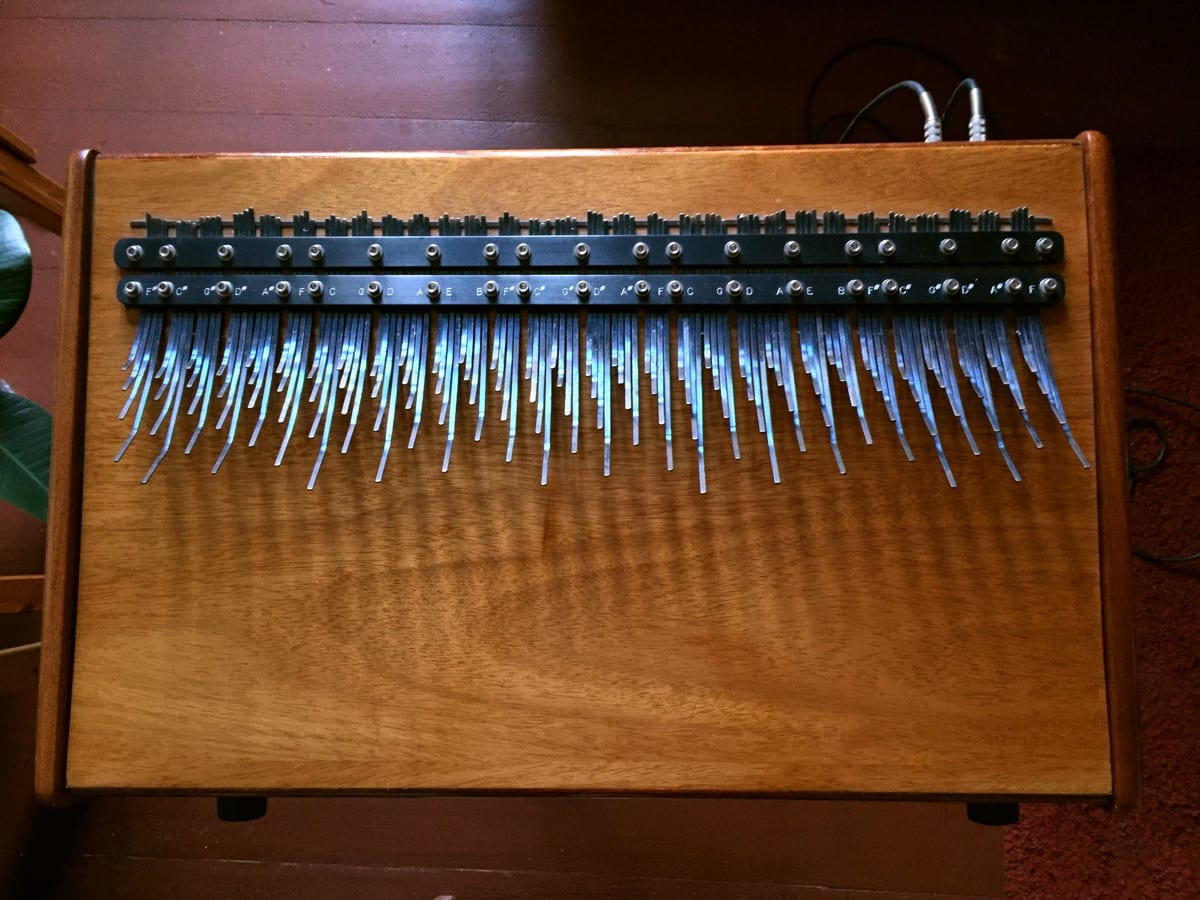 The mbira is an lamellophone originating in Africa and the traditional instrument of the Shona people in Zimbabwe. It's also known under the names of thumb piano, kalimba or sanza, and consists of metal tines attached to a wooden board.
San Diego based Array Instruments founders Bill Wesley and Patrick Hadley have taken the concept much further and created a beautiful modern version of it that includes all notes in multiple octaves called array mbira.
Their Array System arranges the notes according to the circle of fifth, which means that all notes close to each other will sound harmoniously and the shape of a major chord will always be the same, no matter the root note. This makes both playing their instruments and learning music theory incredibly easy and fun.
Carefully crafted presets with round robin and strum features
For Sonic Bloom Array Mbira I've carefully sampled each of the 60 tines of my own four octave array mbira. It is made of sapele wood with an acoustic body of douglas fir that gives it a beautiful soft tone and medium sustain through the built-in two-channel piezo pickup system.
Since the arrangement according to the array system repeats each note twice or even three times to allow the playing of fast patterns with both hands, I've created two versions that alternate between the doubled or tripled notes, either in a traditional round robin way or in a randomised fashion.
The alignment of all octaves of the same note close to each other invites to play them in strums, which is reflected in the octave strum instrument rack and MIDI effect rack presets. Sonic Bloom Array Mbira includes two folders of 34 Instrument Rack presets total, each of them is fully macro mapped and gain staged.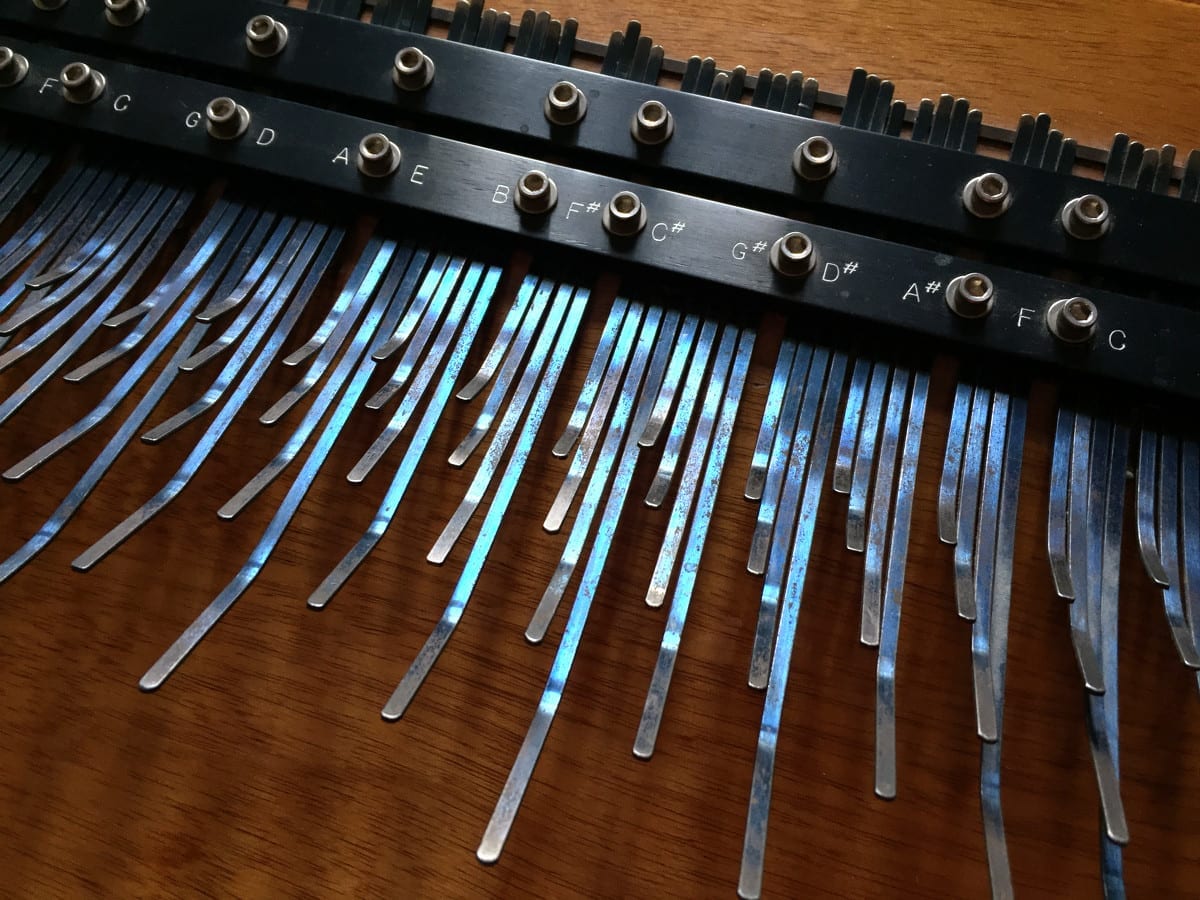 Racks for the pure array mbira tone and sound design alike
Array Mbira Acoustic presets were created for the pure array mbira sound, which has a beautiful medium sustain all on its own. The Instrument Racks include delay, and reverb or an arpeggiator, their most important parameters as well as the volume mapped to the macros.
Array Mbira Round Robin Pure: true round robin alternating between the doubled or tripled notes.
Array Mbira Random Tines Pure: alternates randomly between the doubled or tripled notes.
Array Mbira Octave Strum Pure: simulates the strumming of the notes in all four octaves of the sampled array mbira from highest to lowest; to achieve the original sounding strum play as single notes in the octave between C1 and C2; but it works very well for glissandi as well when playing multiple notes at once.
Array Mbira Reverse Round Robin Pure: reversed samples with round robin selection.
Array Mbira FW_BW Round Robin Pure: combination of reversed and forwards playing samples, each with a round robin style selection of played file.
Array Mbira Arp Pure & 2 Pure: two presets utilising the Arpeggiator MIDI effect and macro mappings
Array Mbira FX presets are all nested sound design racks containing the Array Mbira Random Tines rack as well as various MIDI and audio effects, and are fully macro mapped. They range from swirling pad sounds to distorted bass and dreamy patterns. With most presets you can easily swap out the rack with any of the other acoustic Instrument Racks. To do this, simply unfold the FX Instrument Rack on a MIDI track and drop the desired acoustic preset onto the nested Array Mbira Random Tines Instrument Rack.