I've been thinking of creating a live performance setup for electronic clubs that integrates VJing with live jamming for a long while. I've always also worked with visual art and I make my own music videos, so this seemed like a logical next step for me. Naturally I was intrigued when I found an email about EboSuite in my inbox.
The EboSuite by EboStudio is an application that let's you treat video like audio in Ableton Live with the help of currently 19 Max for Live devices. Even in the Session View. You can sample, mix and edit video on as many as 64 tracks simultaneously (provided your computer offers enough horsepower). The GPU accelerated HAP codec is used for best performance results. The support for other codecs is in the works. Video clips with an alpha channel and in any kind of resolution are supported.
The installation is simple and straightforward. Once done, you will find a folder called EboSuite had been added to your User Library. EboStudio provide example sets so that you can see the devices in action and start VJing right away. You can also use the videos included to build your own little VJ set. Errors are shown that help you use the devices in the right combination if necessary.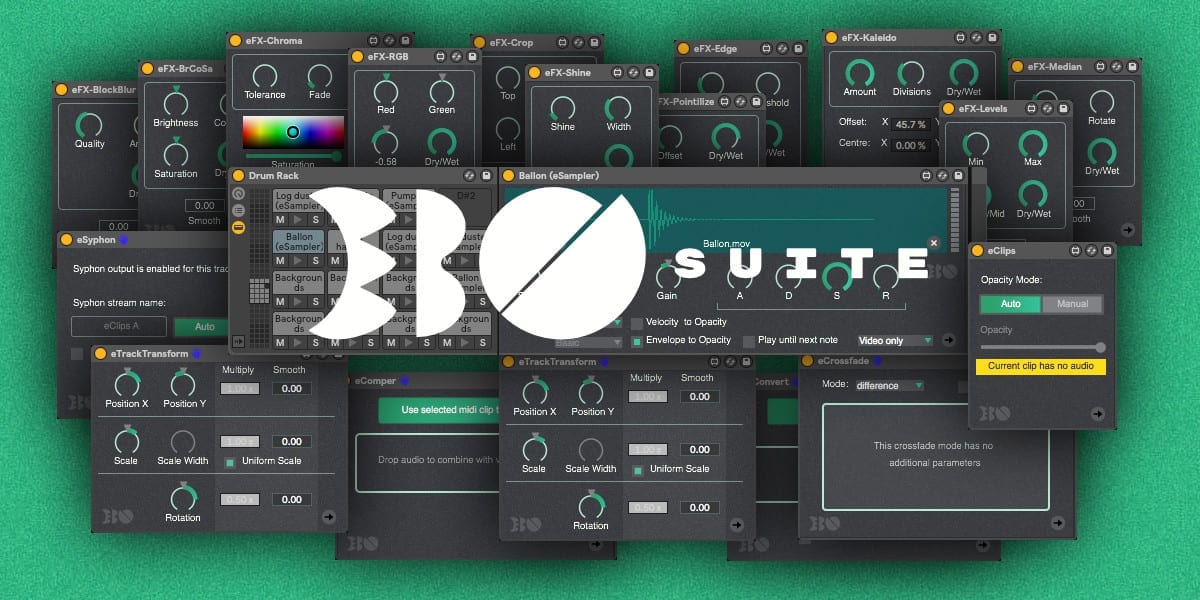 eSampler
This is a straight forward video sampler. You can drag audiovisual clips into eSampler and produce video beats and melodies, trigger videos live, simulate video scratching or use it in 'Video only' mode to visualise your own sounds. Use various instances of eSampler in Drum or Instrument Racks, and play them with any MIDI controller just like you would audio.
eClips
eClips adds video playback functionality to Ableton Live's Session View. Drag video files into Session View clip slots and play and treat them like audio clips. You can use warp markers, set loop points, start and end point etc.
eCrossfade
With eCrossfade you can mix your video tracks in real time using one of currently nine different blend modes and visual effects. eCrossfade is controlled by Live's crossfader.
eTrackTransform
With the eTrackTransform plug-in you can position, scale and rotate individual video tracks to arrange them.
eComper
Use eComper to consolidate a MIDI clip to a video file without leaving Ableton Live. You can drag the newly created video clip directly from eComper's interface to a Session View clip slot, to use it immediately in your Live Set. The eComper works great for compiling basic video edits and video beats.
eSyphon
If you want to route your video tracks out to other video applications like VJ, video mapping- or visual effects software, EboSuite has you covered with eSyphon.
It also allows you to record the video output of your final mix with the help of the Syphon Recorder application.
eConvert
Since EboSuite requires the Hap or Hap Alpha codecs, they've included eConvert, that you can easily convert video files to one of these codecs within Ableton Live with.
EboSuite comes with currently 12 eFX devices to manipulate the video with further:
BlockBlur: diffuse the image
BrCoSa: change brightness, contrast and saturation
Chroma: make a color range transparent
Crop: remove the outer parts of the image
Edge: add contrast to sharp color changes in the image
Kaleido: mirror and repeat parts of the image to create symmetrical patterns
Levels: move and stretch the brightness levels of the image histogram
Median: average the colours in the image
Pointilize: convert the image in a set of black and white points
RGB: adjust the red, green and blue channels
RotaZoom: tile and rotate the image
Shine: make the image glow
EboSuite contains anything you need from preparation, mixing all the way to performing and recording video mashups. The devices are easy to understand and use. I spent way too much time just trying out new things in the mix with only the videos from the two example Live Sets, it was so much fun to play with. EboSuite felt very intuitive to use for me, since all the devices seamlessly interact with Live. Being able to drum out not just a beat, but a VJing pattern at the same time, was exactly what I had in mind. I was pleasantly surprised how little computer power was used up. Even on my 7 year old iMac everything kept running smoothly. EboSuite makes creating music and visuals on the fly a breeze, which makes it the perfect toolkit for anyone who wants to include lively visuals into their performances. It also could come in handy for creating music videos.
EboSuite requires Ableton Live 9.5 and up as well as Mac OS 10.11 or higher. It is available from EboStudio for the introductory price of price EUR 99 (the standard price is set to be EUR 179). A trial version is available on the website as well.