By popular demand Christian Kleine a.k.a. Max for Cats has created a new Max for Live MIDI effect that is modelled after the chord memory function as featured in certain vintage synths. It's called Chord Transposer – the One-Finger-Chord-Wonder and best of all‬, it's included in the free upgrade for all current and new Chord Memorizer users. If you already have the Chord Memorizer, you can find the zip that contains the Chord Transposer under Your Account.
‪Chord Transposer
‪Chord Transposer is the perfect addition to the Chord Memorizer.‬ While the Chord Memorizer lets you store different chords on single keys, the Chord Transposer lets you record, re-trigger and transpose a chord with a single key press. This function is crucial to modern (dance) music, especially when used with an Arpeggiator. The origin of this function derives from some vintage synths such as the Korg Polysix, the Korg Mono/Poly, the Roland Alpha Juno series and a few others.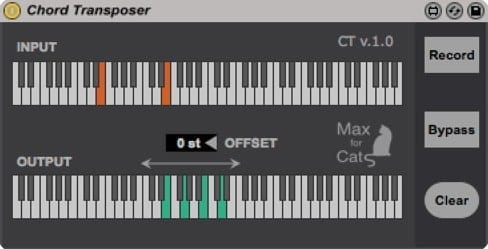 Both Max for Live effects come as self-installing Live Packs with an integrated lesson in Live's Help section and are available together for EUR 10/USD 14 or bundled with the Arp One for EUR 18/USD 25.
Watch the Video Tutorial: