What you get:
a self-installing Live Pack with integrated lesson in Live's Help section
System Requirements:
Live 9 or higher
Max for Live 6 or up
OS X or Windows
The pack includes two Max for Live MIDI effects by Max for Cats. Chord Memorizer and Chord Transposer. Enhance your playing skills in the studio and on stage.
Chord Memorizer

128 keys for as many chords
Easily create, play and store MIDI chords for chord progressions and chord patterns. Each key can store any chord! Use it to play chords with the left hand while playing melodies with the right hand. Or to trigger difficult or 'impossible' chords.
Once Chord Memorizer is fed with your chords, you can save all settings as an individual preset. This way you can access as many stored chord progressions as you wish.
Play complex chord progressions with single keys
Chord Memorizer features two keyboards. The upper keyboard shows the incoming MIDI notes. The lower keyboard displays the stored chords (= outgoing notes). Depending on the THRU switch settings, unmapped notes will be passed through or not.
Of course, you can also place Chord Memorizer into a MIDI Effect Rack. This way you can create key or velocity zones, chains and so on.
Chord Transposer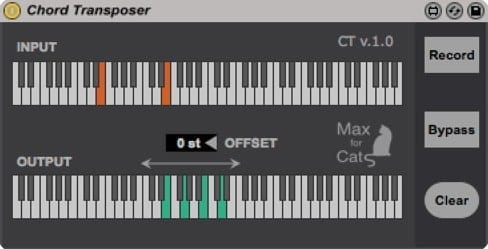 Chord Transposer: the perfect addition to Chord Memorizer
It lets you record, re-trigger and transpose a chord with a single key press. This function is crucial to modern (dance) music, especially when used with an Arpeggiator.
The origin of this function derives from some vintage synths. Such as the Korg Polysix, the Korg Mono/Poly, the Roland Alpha Juno series and a few others.