Quite a long time in the making, the new Max for Live Pack by Max for Cats is finally out today. Drum Articulate is a MIDI effect for sophisticated drum and rhythm design for any musical style. Create drum rolls, flams, random triggers and more with ease.
It can be placed on individual pads of a Drum Rack in Ableton Live, used globally on a whole drum kit or even be employed for synth programming and effects. It's also great to use on MIDI instruments or in combination with other MIDI effects for more crazy stuff. Perfect for the use in the studio and especially on stage.
Check out the video:
Here's a quick overview of the modes & features:
6 different modes with lots of features
Drum rolls & speed drum rolls
Drum repeater
Drum flams
Controlled randomness
Drum time designer with 15 delay lines
Humaniser
Map incoming note to up to 16 different notes to step through
For more info, head to the Drum Articulate by Max for Cats page.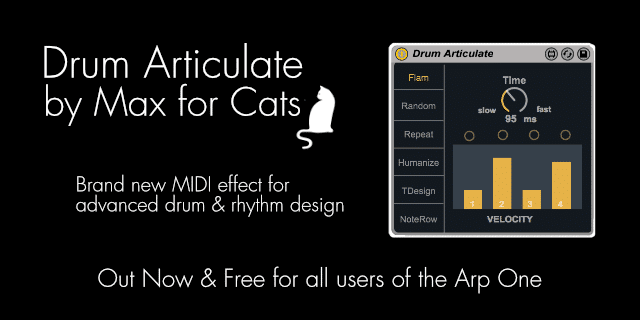 And if you'd previously purchased the Arp One by Max for Cats, I've got great news for you. Drum Articulate is free for all users of the Arp One. Please log into your user account, download, double click to install and enjoy the new MIDI effect.
Why? Well, Ableton loved the Arp One so much, they wanted to include it in the Max for Live Essentials Pack for Live 9.5. We couldn't possibly say no to this, but thought we'd give you a more than adequate replacement for discontinuing the Arp One here on Sonic Bloom. Cue Drum Articulate. Btw, the Arp One is now called Arp and free at Ableton.
Also, Christian Kleine has just released his 5th album on Bandcamp.
If you have any questions, suggestions or just want to say thanks, please do so in the comments. 🙂