I'm very happy to announce two new Max for Live MIDI effects – "Arp One" and "Chord Memorizer" – that were specifically developed for Sonic Bloom by Christian Kleine with his new outlet Max for Cats.
Both Max for Live effects come as self-installing Live Packs with an integrated lesson in Live's Help section and are available separately for EUR 10/USD 14 or as a bundle for EUR 18/USD 25.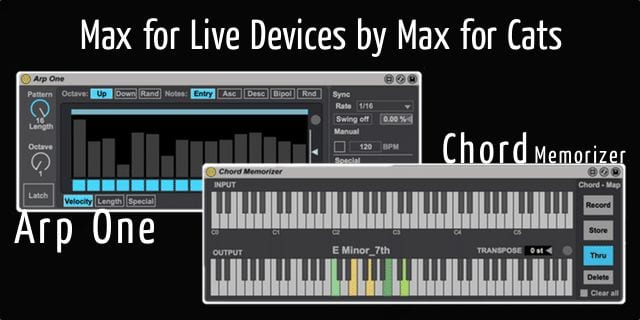 Arp One
Arp One is a new Max for Live MIDI Arpeggiator with pattern functionality. It works similar to the Live Arpeggiator, but lets you define between one and 16 step values for velocity, note length and a mappable parameter value.
Watch the Video Tutorial:
Chord Memorizer
The Chord Memorizer is a Max for Live MIDI effect. It lets you easily create, play and store MIDI chords for chord progressions and chord patterns. Each key can store any chord!
Watch the Video Tutorial: