If you like glitchy effects in your music and you have Live 9 Suite, then the free Max for Live effect 'Stutter Slider' is for you.

'Stutter Slider' is a simple, but effective stutter audio effect by tomme.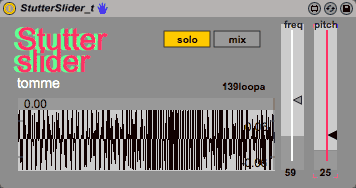 Here's how it works:
Drop it into the track you want to create stutter effects with.
MIDI Map the Frequency (and Pitch) to a slider or knob on your MIDI controller or move the sliders in the Max for Live device itself with the mouse.
Don't move sliders before playback has started or the track will appear muted.
The higher the values the more repetitions and smaller the grains become.
This way for heaps more Max for Live devices & tips.