Last year in February, I'd reviewed Push Hacker version 1. A Max for Live device that allows you to – you would have never guessed it – hack the Ableton Push. This means you can create mappings that suit you and your live performance style, because this is what it was designed for. Of course, you could also use it in the studio. Push was created for jamming and working in the studio more than for live performance. You can tell by its weight, even though I and lots of other people find it most useful and fun to use on stage. Now Fastlane and Soundmanufacture have teamed up to create Push Hacker 2, a complete rewrite.
The first thing I noticed is that Push Hacker 2 seems more intuitive to use than the first version and it offers you even more ways to hack your Push 1 or 2.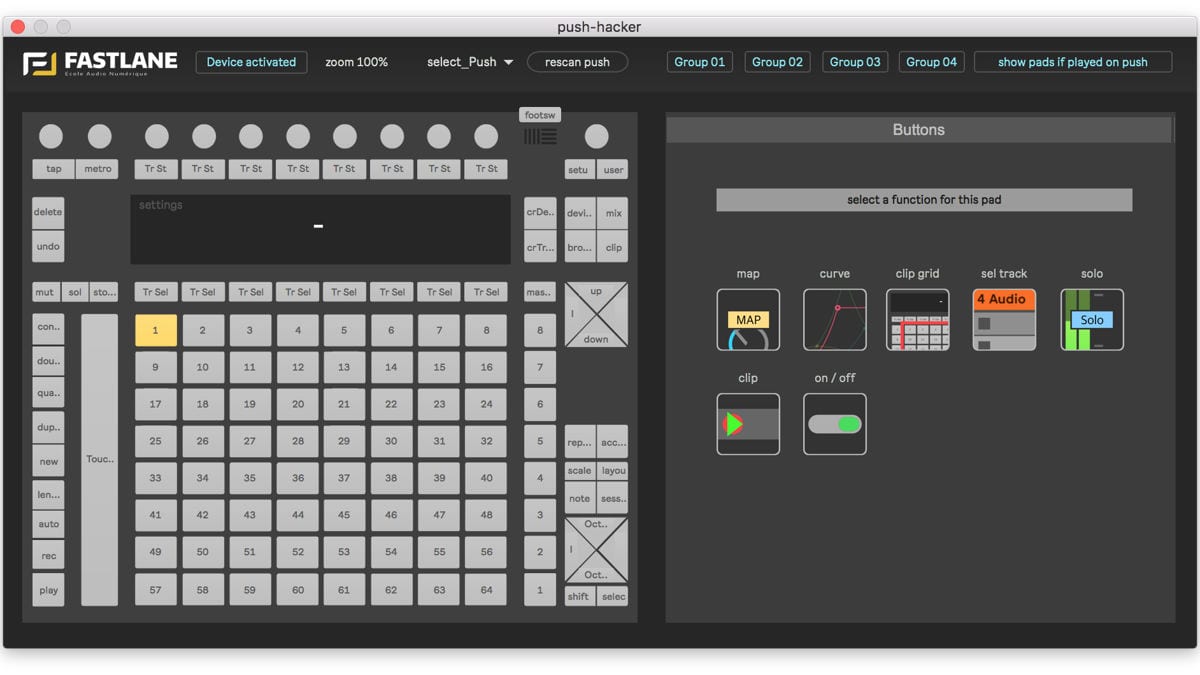 In the device view you can open the floating window, you get to see if there's an update available as well as useful links to YouTube videos and more. In the window, you're shown not just the Push layout, but also the functions that Push Hacker allows you to map on your Push.
You can:
Map: Map up to eight parameters in Ableton Live to control them with a button from Push. Set the behaviour to be toggle or gate. Even have message shown on Push's display.
Curve: Map up to four parameters in Ableton Live to control them with a button from Push and have them behave according to drawn curves.
Clip Grid: You can move the 8×8 matrix of Push (the coloured frame) and define up to four positions of the frame to go through.
Sel Track: Select a Track with the assigned button.
Solo: With the Solo function you have access to the solo button of a rack, which can behave like a toggle or gate.
Clip: Select for a specific or the currently selected clip slot in your Live Set to behave in a specific way when you hit or hold this control when the clip is recording, playing, or stopped. You can also let the track be automatically armed when you start recording.
On/off: Turn the Push Hacker mappings on or off.
Watch the tutorial on the main functions of Push Hacker 2:

Functions can also be grouped and pads can be assigned individual colours on your Push. As with any hacking it might take you a little bit to get the best solutions that fit your live performance best, but it will make using Push a breeze once you've got them all sorted with Push Hacker 2.
Watch the tutorial on what can be done with the Clip function of Push Hacker 2:

Push Hacker 2 requires Ableton Live Suite 10.1.4 or Standard with Max for Live 8.1 and up and is available from Soundmanufacture for EUR 12 / USD 16.
This way for heaps more Max for Live devices & tips.