I'm very happy to host another of PerforModule's Live Packs. This free pack contains the sampled Japanese Koto from the Casio PX-300 Digital Piano. The 'PMX-300 Freebie Koto' Live Pack was made in and for Live 9.
Listen to the demo: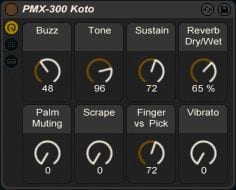 The full PMX series with 18 individual packs and over 150 individual instruments are released as individual packs over the next few months and are available at Isotonik Studios.
If clicking it to download results in a text-file, simply right-click and choose 'Save Link as…'. To install, just double-click the alp-file and choose the installation path when prompted by Live. And here's a tutorial on how to use the presets from Live Packs that are not self-installing.
Questions or suggestions are always welcome in the comments below.
Check out the other free Sonic Bloom Live Packs.