The free Live Packs that are not from Ableton or one of Ableton's sound partners contain .als files (Live Sets). I've gotten a few questions along the line of the following one and thought I'd write a little tutorial about it. "How can I use the samples in a session I've already started? Must I start a new session with that file as it's a session file?"
No, you don't. When you double-click the Live Pack, Live will ask you where you want to install the resulting Live Project. Once you've appointed a location (outside of your Live Library), it will simply be unpacked there. The currently open Live Set will be completely unaffected.
Now how can you use the presets included in the Live Pack?
Here's how:
Add the Live Project to Live 9's browser under Places via 'Add Folder' in the browser.
Choose it, unfold the Live Set's tracks by clicking on the little triangle to the left of the name.
If you add a track of it to the Live Set you're working on, the containing preset will be added with it. To add one or more tracks, simply highlight, then drag and drop them onto the Track Title Bar of.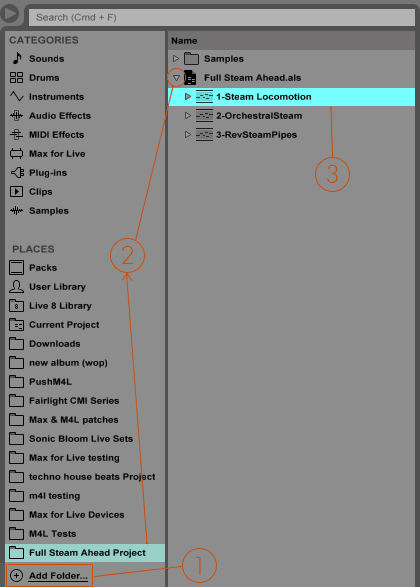 Questions or suggestions are as always welcome. Please leave your comment below.