Trick or treat? HauntedVerb by Max for Cats Bats creates ambiences from beyond. Either tweak it to your own claustrophic needs or use one of the presets. Perfect for Halloween, but also always handy when you could do with some eerie, haunting or downright scary sounds in your tracks. And most frighteningly you can download it for free.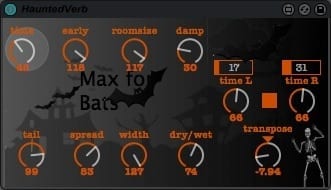 HauntedVerb requires Live 9 and Max for Live (6.1) and comes in a self-installing Live Pack that contains various presets.
This way for heaps more Max for Live devices & tips.