Max for Cats has been at it again and created a fantastic new synth. Actually a whole synth system. The MSE Synthesizer System consists of three components: the synth module, the Quad, four of the MSE synths stacked together, and the SEQ8, a step sequencer.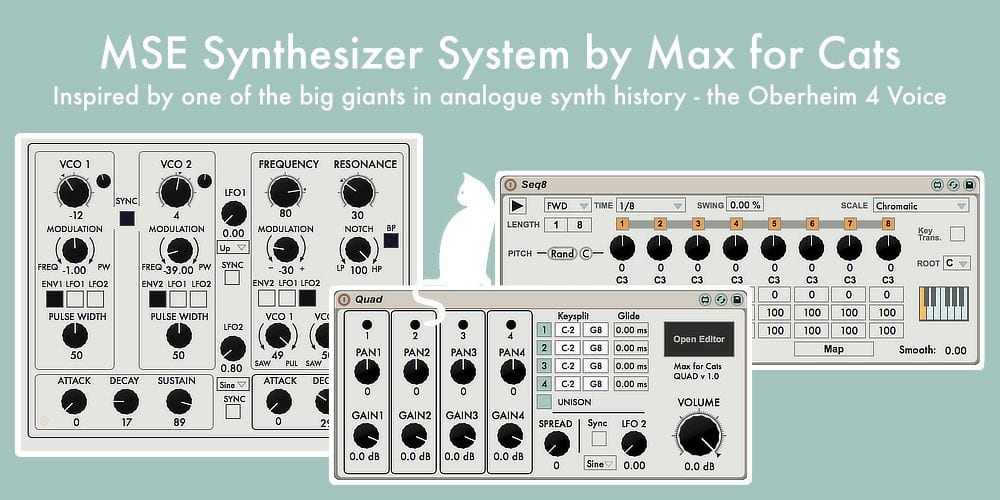 The MSE Synthesizer is inspired by the legendary Oberheim SEM (Synthesizer Expander Module), which was introduced in 1974 by Tom Oberheim. The Four Voice was one of the very first polyphonic synthesizers – made possible through stacking four individual SEM Modules into a big box and adding a keyboard. Because of this, it became possible to completely independently program each synth, but play them as a single sound via the keyboard (4 voice polyphonic) or sequentially hit notes on the keyboard to trigger each module. In combination with a sequencer like the SEQ8, this creates very vivid synth lines. The Four Voice has been used by artists like 808 State, Depeche Mode, Styx, Pink Floyd, The Shamen, Gary Wright, Joe Zawinul and John Carpenter.
Check out some demos:
The MSE, just as the SEM, is capable of fat deep bass sounds, ripping leads sounds and all kinds of effect sounds. Unlike the hardware original, the MSE can also be played polyphonically for soothing pad sounds or warm string type sounds. The relatively limited but very thought through function set invites for experimentation but always delivers interesting and musical results without loosing focus in a jungle of parameters. It is suitable for modern and vintage sounds alike, this timeless classic is just a must have for any synth-loving musician…
Watch the video tutorial:
The MSE Synthesizer System comes as a self-installing Live Pack with an integrated lesson in Live's Help section and is available for EUR 30/USD 35.