Some years ago I got to play the Skinstrument II that uses our skin's resistance to generate sound whenever the circuit is closed by touching the instrument and each other. Back then I also recorded it and now created a Live Pack named "Skinned Synth" with it that is great for mean sawtooth-like bass, synth chords as well as screaming high melodies.


The included Instrument Rack is fully macro mapped and will work in Live 8 and 9.
Listen to the demo:
If clicking it to download results in a text-file, simply right-click and choose 'Save Link as…'. To install, just double-click the alp-file and choose the installation path when prompted by Live. And here's a tutorial on how to use the presets from Live Packs that are not self-installing.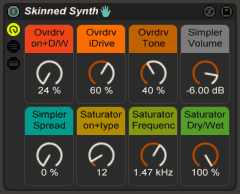 Questions or suggestions? Please leave a comment below.
Check out the other free Sonic Bloom Live Packs.