Whitebox Synth Makers has created a new ambient Max for Live instrument, the Pixiphone.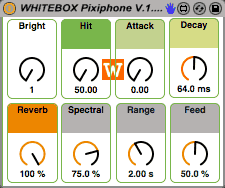 WHITEBOX Pixiphone models a child's toy that you can enhance with spectral delay, reverb, brightness, hit strength, attack and decay. Everything from ethereal vibraphones to metallic mallets to tinkling bells is possible. A rework of Pluggo's Big Ben Bell was used to create 8 new preset tones. 8 controls let you further customise the sound.
Have a listen to the demo:
This way for heaps more Max for Live devices & tips.