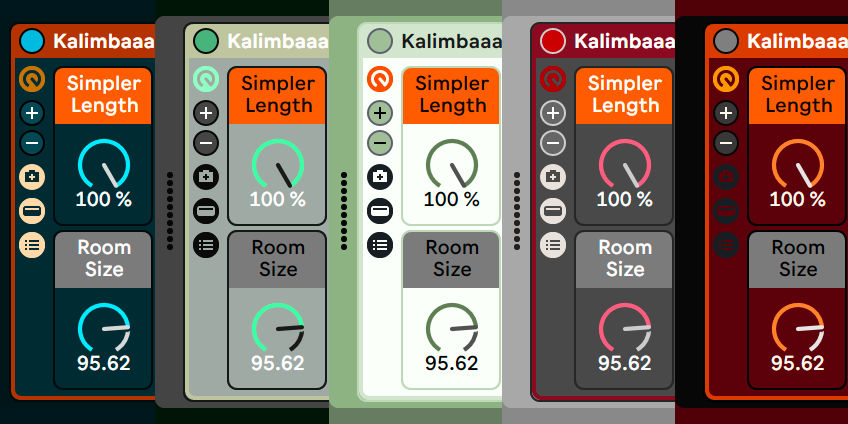 This set concludes the recreations of all my Ableton Live skins. It contains the following themes in order of appearance in the image: Marine, Nimbus, Moss, Red Greys and Red Red Red. Four of them are a lot more daring in terms of colour use with lots less grey employed in their creation.
As with the previous adaptations I simultaneously went through all the elements checking that everything is easily discernable with nothing lacking contrast or even worse, getting lost due to wrong colour choices. When I noticed something I made adjustments so that the themes should be even better than the skins I've adapted them from.
If you'd like to see more than just what an Instrument Rack looks like with any of the themes, you can simply click on the black button below and click through screenshots of Live's interface for each individual theme before grabbing them for free (or a small donation if you like).
Important note: The themes will only work in Live 11 Lite to Suite and up. In Live 10 and below they will return an error message.
For Live 10 and up you can also download free themes. You can still download the Live 9 skins. If you don't know how to install them, have a look at this tutorial. And if you'd like to create your own themes, I've got a tutorial for that as well.
Let me know what you think of these themes. Too colourful for you or would you like to see more vibrantly coloured themes and less grey?