I'm back with five recreations of my Ableton Live skins as themes for Live 11. These themes will only work in Live 11 and up, because I've used a default theme from Live 11 to adapt them. Unfortunately I didn't realise that trying to use these new themes in Live 10 will throw out an error message. Though the good news is that these themes have been perfectly adapted to work with the interface in Live 11. This includes all the changes like the scene numbering or the tabs in the clip view. I've also fixed a few issues I had noticed in the skins so they should be even better than before.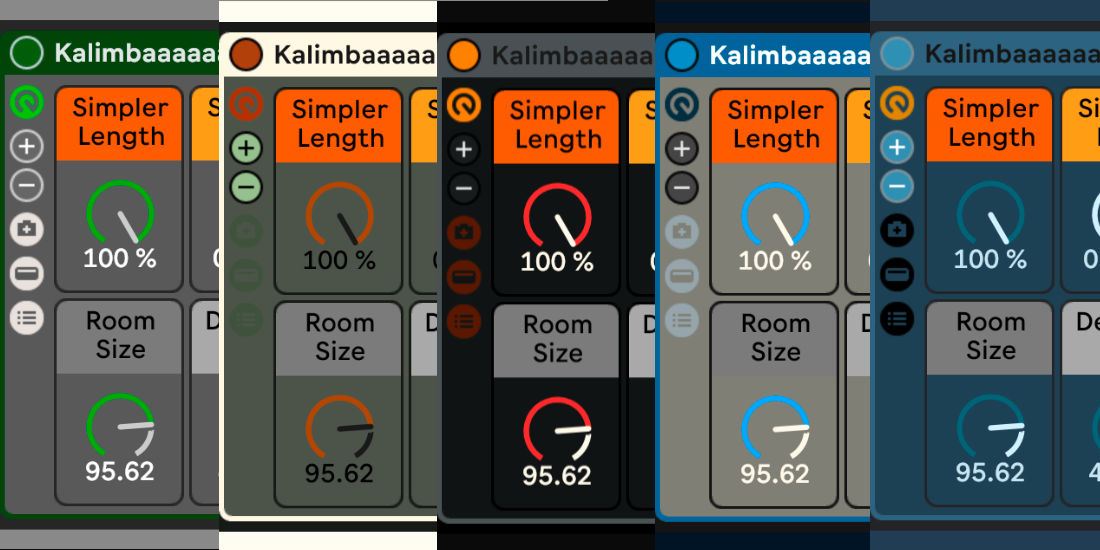 The skins I've adapted are First Green, Asparagus, Amber, Argent as well as Blue Night (in order of appearance in the image). I will release more over the coming months so stay tuned if your favourite skin hasn't been revised just yet. If you're impatient, drop me a comment below which one is your fave so I can include it in the next set.
Important note: These themes only work in Live 11 and up.
For Live 10 and up you can also download free themes. You can still download the Live 9 skins. If you don't know how to install them, have a look at this tutorial, and if you'd like to create your own themes, I've got a tutorial for that as well.
Let me know in the comments if there's anything not working as it's easy to overlook something with all the small details in Live's interface.