The combination of Max for Live MIDI effect and Lemur template in this free arpeggiator is quite clever. FingArp has many functions you can quickly switch between and affect, which gives you tons of immediate variations for your chords. It connects with a Max for Live patch via OSC which only requires setting an OSC target.
Watch the introductory video:
This tutorial shows setup and a run through of using fingArp and its features:
Features: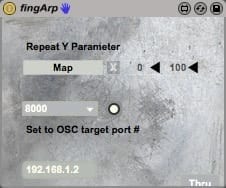 6 interchangeable menus
individual velocity, duration and added octave for each voice in the chord
quick change of positioning of the pattern via multi balls
settings for speed, direction, overall octave
8 banks for storage
sustain, freeze and repeat notes
physics and more
This way for heaps more Max for Live devices & tips.