While Ableton has added the option to have Live open in two windows a while back, this only really helps when you have a dual monitor setup. EraserMice went one step further with his Max for Live Pack ProSession which makes it possible to view both Session and Arrangement View in one window. And even if you have two monitors you might like the convenience of having both views accessible with fewer mouse movements.
To round off the mixing tools, PerforModule's Dynamixing Three Live Pack was released alongside EraserMice ProSession at Isotonik Studios.
EraserMice ProSession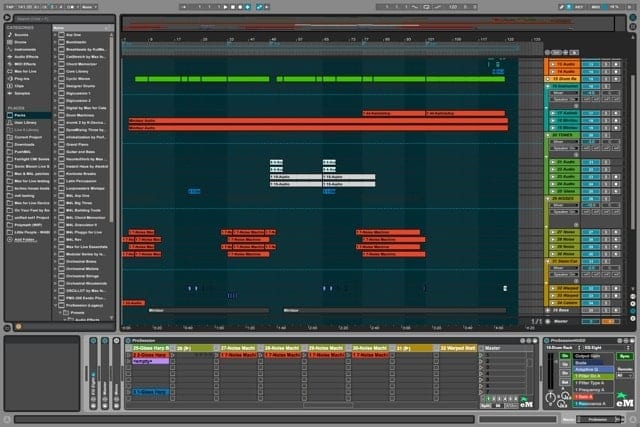 proSession.amxd basically adds a copy of the Session View to a track with a nifty mouse over quick access to track controls.
proSessionHUDD.amxd, the "Heads Up Device Display", shows you what's happening in the devices on the selected track and can be kept in sync with proSession. You can even customise which devices and parameters should be the defaults for proSession. Use it on any or each track you want access to any device parameters.
proSessionHUDDremote.amxd lets you set up MIDI and OSC mapping of the HUDD device(s) as well as access HUDD controls from Live's automation methods.
EraserMice ProSession lets you easily keep track of and control pretty much anything from one track's device view, making the master track an obvious choice. There are quite a few helpful videos and a PDF manual, although most of it is rather self-explanatory and intuitive if you just explore the features.
Watch the video tutorial:
EraserMice ProSession is available for £ 13.99 from Isotonik Studios.
DynaMixing Three by PerforModule
This Live Pack makes clever use of both Live devices and the free Max for Live devices available on Ableton's website to give you a bunch of very useful audio effect racks for mixing including artificially-intelligent reactive parameters. But remember, use carefully as more often isn't better.
Included:
Super Distortion gain-staged implementation of 7 different types of distortion, plus a tone knob
Adjective EQ (6Band) each with a knob to cut or boost and a knob to place the frequency spot
Sophten 4 different methods to soften harsh high frequencies
Analog Pressure channel strip designed for adding analog taste to material
AutoGain 1.1 automatically "gain-ride" (live) audio material
LRMS AutoSculptor a custom LRMS balanced chain-split to divide the signal into 5 parallel auto-dynamic 2-band shelving EQ chains
SidePump one-knob sidechain compressor
Tube Maximizer designed to be used as the last stage in an FX chain
Watch the video tutorial:
DynaMixing Three is available for £ 19.99 from Isotonik Studios.
This way for heaps more Max for Live devices & tips.