ClyphX has been my secret weapon for a long time. Without it, my live performance setup would not be possible. It's a MIDI remote script for Ableton Live that allows for very simple scripting to control any parameter in Live. Stray has maintained it for free for years on his website nativeKontrol. He's now rewritten the script from the ground up, and added new features as well as five Max for Live devices that interface with the script to allow for even more flexibility and control. The result is ClyphX Pro, which is available at Isotonik Studios. ClyphX, the free version, will no longer be maintained, but currently appears to be still working.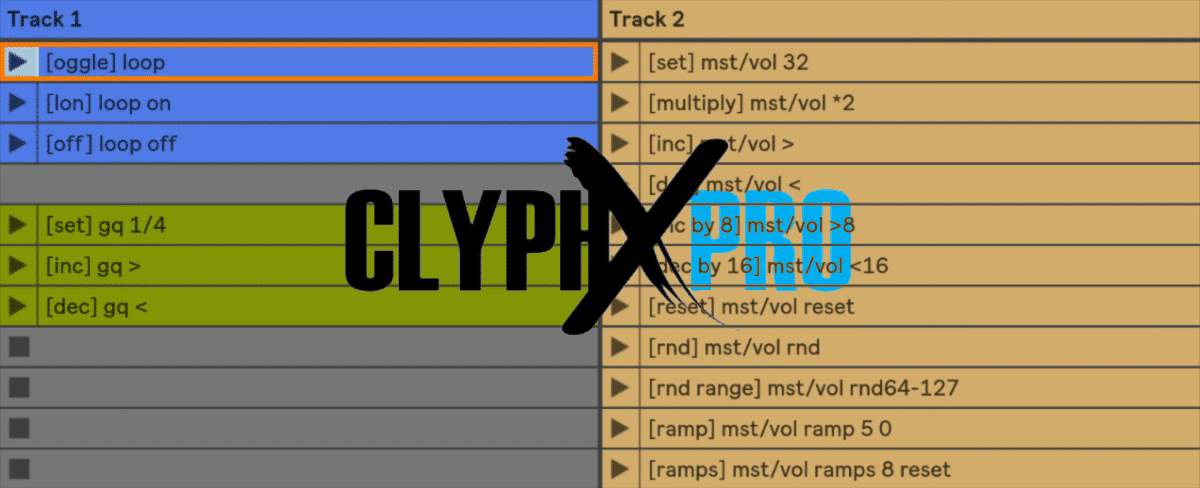 The way ClyphX Pro works after the easy installation and very quick setup is that you can simply add lists of actions to clip names, locators in Arrangement View, from MIDI controllers or Max for Live Devices. Depending on the syntax used on clips, these actions will be performed when it's triggered, played again or stopped. The script itself is so versatile, that you can even create your own little scripts without being a programmer. With Snap Actions, it's possible to store snapshots of tracks, devices or the entire Live Set to recall at any time.
There are also XT Scripts to integrate MIDI controllers of your choice, and the option to link various MIDI controllers together. Scale settings, the mode, focus and more features of Push/Push 2 and Arsenal-powered Control Surface scripts can be set by actions. Three of the Max for Live devices contained in Live Set lessons interface with the common controllers Launchpad Pro, Ableton Push and Push 2. Another let's you add actions to it, that than be triggered best when mapped. The last of the five is a MIDI effect that makes it possible that actions can be triggered by notes in MIDI clips.
Below I'm listing all the different types of actions that are possible with some examples, to give you an idea how extensive the scope of ClyphX Pro truly is.
Types of Actions:
Global Actions (control Live Set wide features + ClyphX extras, e.g. ADDAUDIO, LOOP, REDO, UNDO)
Scene Actions (control over scenes, e.g. SCENE DEL, SCENE DUPE, SCENE RND)
Navigation and View Actions (navigate in Live Set and control views, e.g. SHOWDETAIL, TGLMAIN)
Browser Actions (loading and hotswapping in Live's Browser, e.g. LOADCLIP, LOADM4L)
MIDI Actions (send MIDI messages to set output, e.g. MIDI CC, MIDI NOTE)
Track Actions (control track features. e.g. ARM, MUTE, SEL)
Device Actions (control Live and Max for Live devices and plugins. e.g. DEV RESET, DEV RND)
Simpler Actions (control the Simpler instrument in Live. e.g. DEV SIMP REV, DEV SIMP WARPMODE)
Device Chain Actions & Drum Pad Actions (control features of device chains as well as Drum Rack pads, e.g. DEV CH CHOKE, DEV CH SOLO)
Snap Actions (store and recall snapshots (snaps) of track and device settings)
Clip Actions (control parameters in clips, e.g. CLIP GAIN, CLIP WARPMODE)
Clip Loop Actions (manipulate the loop braces of a clip)
Clip Cue Actions (control the position of the clip to play from)
Clip Envelope Actions (insert and manipulate the envelopes within a clip)
Clip Envelope Capture Actions (creates envelopes in the clip for the current settings of the associated track's mixer and/or devices)
Clip Note Actions (allow you to manipulate the notes within a clip)
Control Surface Actions (control MIDI controllers set as Control Surfaces)
Push Actions (control Push and/or Push 2 set as Control Surface)