Dopplator is an LFO modulated time delay with feedback. It's really great for rhythmic variations or glitchy delays on drums, pad sounds and more.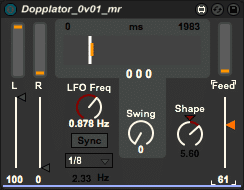 The LFO modulation waveform can be slipped in time (swing). Also the shape can be altered using a power-law wave shaper. Turn off sync for weird, but cool results.
This way for heaps more Max for Live devices & tips.