This time I selected three free Max for Live devices from the latest releases on maxforlive.com that can be very useful for live performances. Of course, they may also come in handy in your music productions, but in my opinion, they shine when used for gigs.
Mormos Pitch Drop 2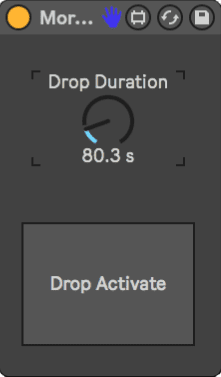 Some of you might already know Mormo's Pitch Drop device. Robert Schulz has now updated the Max for Live audio effect to allow a pitch drop to happen over a maximum of 600 seconds, whereas the original had a limit of two seconds.
Download Mormos Pitch Drop 2.0
MDD OCTOMORPH 1.0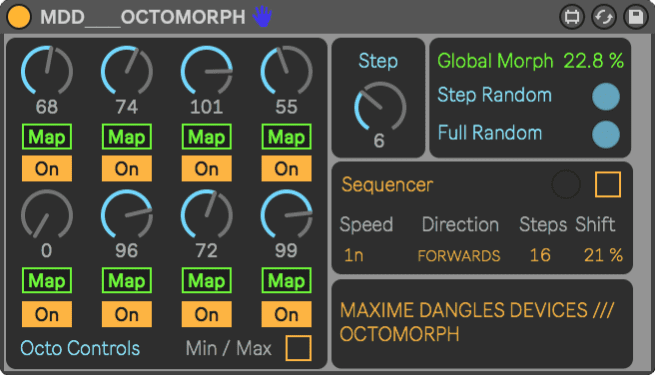 This Max for Live audio effect by Maxime Dangles allows you to map any 8 parameters in your Live Set to the 8 dials in the device, set the minimum and maximum if desired. Then you can create up to 16 presets for these mapped parameters, which can be sequenced and morphed together. Set the sequencing speed, directs, the amount of steps and shift, decide on how much the presets should be morphed into each other. The steps can randomised or steps and parameter settings.
LFOLFO 0.04

This Max for Live MIDI effect by synthesizerwriter still is in its early stages, but noteworthy nonetheless. LFOLFO is an experimental 'multiplying' LFO that takes the idea of the LFO MIDI in Live to another level of modulation possibilities. It can be mapped to any parameter in the Live Set and uses modulatable rate controls (multiplies and divides). It has three sub LFOs to modulate the Rate, Multiply and Output Waveform controls. Sub LFO 1 can also be used to modulate the output waveform selection of Sub LFO2. The visualisations show you the modulation that will happen to the mapped parameter.
Let me know if you have any comments.
This way for heaps more Max for Live devices & tips.