While there are a lot of workflow improvements in Live 9, there are some changes that can practically wreck your live performance. One of them is the way how clicking one of the record buttons would instantly start the recording. Or better, how it worked in Live 9 until now… as Ableton have listened.

In Live 9, pressing Session Record or Arrangement Record will immediately start recording in all armed tracks. Unless you pressed Shift and Record which holds the recording start until you press Play or launch a clip as it is in Live 8 and earlier.
In most cases, this is no problem, but what if you have several tracks armed in your performance Live Set (I for once do) and want to record, overdub or record automation? It's very inconvenient to have to delete undesired empty clips and quite a lot of users have asked to get the old behaviour back. Their wishes were heard at Ableton HQ. In the latest Live 9 beta (9.0.3b3) you can now switch the behaviour in the Live Preferences > Record/Warp/Launch or in both Record context menu (right- or Ctrl-click on the Session Record button).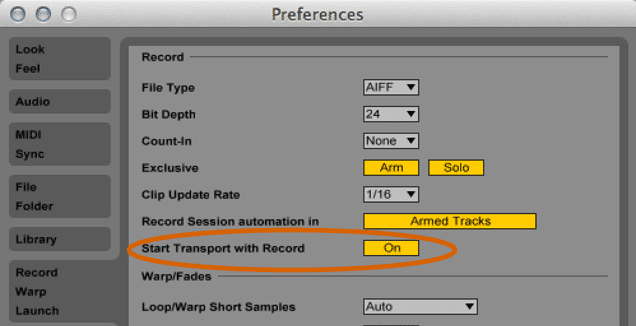 Start Transport with Record
If on, the transport will start immediately when clicking on the Session or Arrangement Record buttons.
If off, it prepares for recording as in Live 8, so you have to launch a clip in Session View or click the 'Play' button.
You can hold down Shift when clicking on the record buttons to invert the behaviour temporarily.
It's great to see that the guys at Ableton are listening and reacting upon reasonable user requests so quickly, don't you think?