Christian Kleine, a.k.a. Max for Cats, has been busy. After the Max for Live modular synth OSCiLLOT, he's already finished two unique and creative delays now out on Sonic Bloom. Skram Delay and Stochastic Delay both take a fresh approach on time shifting of an audio signal, one of the most powerful and effective sound treatments ever invented.
Both Max for Live Packs are self-installing with an integrated lesson in Live's Help section and are available separately for EUR 10/USD 14 or as a bundle for EUR 18/USD 25. Save even more by getting them as part of the Max for Cats Complete Collection.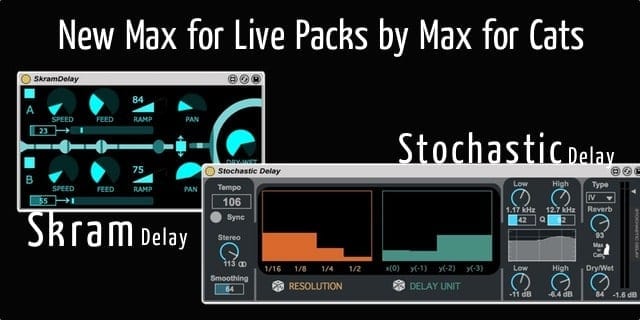 Skram Delay
Skram Delay lets you dial-in various flavours of delay randomness which makes it perfect for 'instant glitch' sounds. From subtle changes such as slap-back or cardboard echoes to complete sonic chaos. A dual channel delay with modulated delay times, each channel can have completely independent settings or be linked.
The unique interface, which is pre-mapped and ready to use with Push or any other MIDI control surface, makes the Skram Delay not only sonically but also visually stand out.
Watch the Video Tutorial:
More information on "Skram Delay"
Stochastic Delay
The Stochastic Delay offers two independent, stochastically driven delay engines with two post-EQ filters, freely adjustable or synced tempo as well as built-in reverb.
The process can be adjusted either via mouse movements in the Resolution and Delay units or via the 'dice' buttons for a random injection. The Stochastic Delay comes pre-mapped and ready to use with Push or any other MIDI control surface.
Watch the Video Tutorial:
style>.embed-container { position: relative; padding-bottom: 56.25%; height: 0; overflow: hidden; max-width: 100%; } .embed-container iframe, .embed-container object, .embed-container embed { position: absolute; top: 0; left: 0; width: 100%; height: 100%; }