The first two Max for Live Packs of Max for Cats are very popular. Today two new Max for Live Packs are out – "Noland" and "CatStretch" – which were also developed specifically for Sonic Bloom by Christian Kleine with his synth/effect outlet Max for Cats.
Both Max for Live Packs are self-installing with an integrated lesson in Live's Help section and are available separately for EUR 15/USD 20 or as a bundle for EUR 27/USD 36. Save even more by getting them as part of the Max for Cats Complete Collection.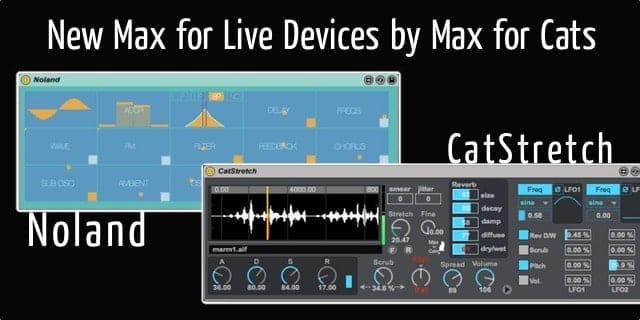 Noland
Noland consists of 2 Max for Live devices: the Noland Synthesiser and the NolandFX harmoniser effect with built in filters, delay and reverb. The Noland synth, a unique instrument, is controlled with individual, automatable X-Y pads.
Watch the Video Tutorial:
CatStretch
CatStretch is a 6-voice polyphonic time-stretching sample playback instrument. It lets you 'freeze' a sonic character at a specified position and play it back chromatically with MIDI notes.
Watch the Video Tutorial: