If you're like me and spend a considerable time of music production in the Arrangement View and have an Ableton Push, this Max for Live device is for you. It basically gives you an additional Arrangement Mode on Push, which can be entered via Shift + Session, without interfering with its other modes. Most functions work on a "selected track" basis. Push-ArrangeMode frees you from the mouse and speeds up your workflow.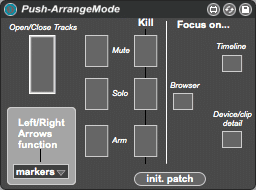 Features:
Solo, mute arm the selected track, and unsolo, unmute and unarm all the tracks
Zoom tracks vertically, navigate between them, and zoom the arrangement horizontally
Open/close tracks (as an alternative to the vertical zoom)
Activate/deactivate a clip and turn on/off its warp from the Clip mode
Close and focus the various sections of Live's window, e.g. the browser, clip/device view
Control the Global Record with the record button
Navigate the Arrangement with markers
Control the loop and punch in/out settings
Control the draw mode
Control the "follow playback"
Set Live's global quantisation directly from Push
Bonus: some of these functions become mappable to your computer keyboard or another MIDI controller
Push-ArrangeMode by Valiumdupeuple is available for the devilish price of EUR 6,66. Don't forget to check out his various other devices, several more for Push included.
This way for heaps more Max for Live devices & tips.