Transient are high amplitude, short sounds in waveforms, most notable in percussive sounds. The Max for Live audio effect "Transient Designer" lets you shape the transients of your audio signal by tweaking the parameters of attack and release.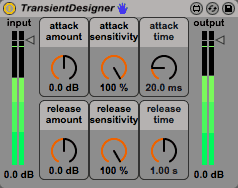 It requires Live 9 and Max 6.1.
This way for heaps more Max for Live devices & tips.