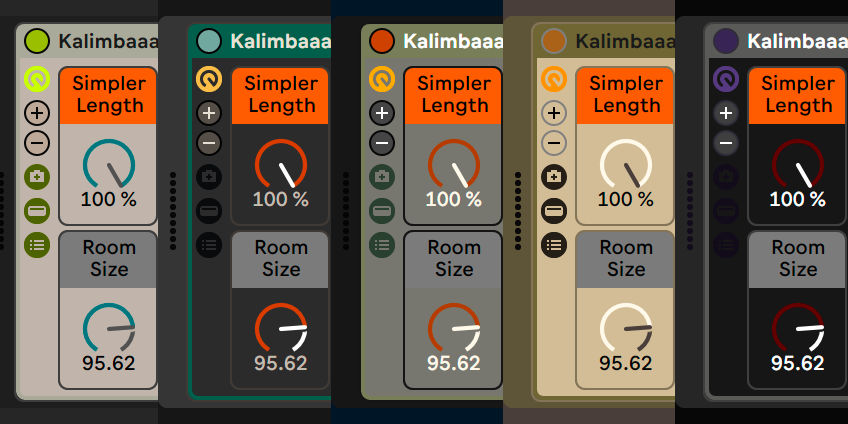 Here we go with another set of themes for Ableton Live 11 I've recreated from Live skins I've previously made, but that while still technically working in Live 11 just didn't look quite right due to the change in format. The themes adapted from Live skins that are included in this set are Cinereal, Dark Bloom, Sonic Silver, Earthen and Lila (in order of appearance in the image).
These five themes mostly don't use neutral greys, but greys with a subtle greenish or brownish hue or beige tones with pops of colour for smaller element. None of them are too bright or glaring. So they're still perfectly suited for producing music for hours at a time in Ableton Live 11.
If you'd like to see more than just what an Instrument Rack looks like with any of the themes, you can simply click on the black button below and click through screenshots of Live's interface for each individual theme before grabbing them for free (or a small donation if you're so inclined).
Important note: The themes will only work in Live 11 Lite to Suite and up. In Live 10 and below they will return an error message.
For Live 10 and up you can also download free themes. You can still download the Live 9 skins. If you don't know how to install them, have a look at this tutorial. And if you'd like to create your own themes, I've got a tutorial for that as well.
Let me know if you've got a comment to add. Something not looking right in one of the themes or maybe you'd like me know know which one's your favourite?