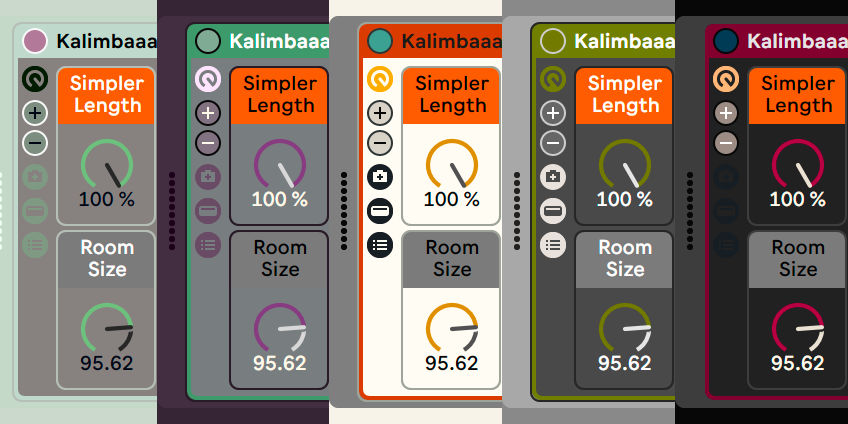 Once again I'm back with a new set of five themes for Live 11. Four of them I adapted from Ableton Live skins I've made over the years, one is brand new. The recreations are reworked to improve any elements that had too little contrast or poorly readable text, so that hopefully they'll be even better than the skins originally were. If you spot anything that I've overlooked, please let me know in the comments below.
The new one is called Celadon, the first one in the image. It sports medium brownish reddish grey, minty green and rose tones. The themes adapted from Live skins I made over the years are Petunia, Light Bloom, Olive Greys and Red Wine (in order of appearance in the image). One's a light one, kind of off whitish with a slight tinge of a warm yellow as the base colour. Two are darker greys with pops of colours and the last one has a barely greenish tinge in its grey base with bordeaux and green accents.
If you'd like to see more than just what an Instrument Rack looks like with any of the themes, you can simply click on the black button below and click through screenshots of Live's interface for each individual theme before grabbing them for free (or a small donation if you're so inclined).
Important note: The themes will only work in Live 11 Lite to Suite and up. In Live 10 and below they will return an error message.
For Live 10 and up you can also download free themes. You can still download the Live 9 skins. If you don't know how to install them, have a look at this tutorial. And if you'd like to create your own themes, I've got a tutorial for that as well.
Let me know if you've got something to say in the comments below. Whether there's something not quite looking right in a theme, if you've got praise or have a request.