I couldn't make it to LA for this year's Loop summit, but fellow musician and now also hardware builder Nicole Equerme graciously agreed to report back for us. While there were some live streams and interactive challenges for those of us who stayed behind, it's great getting a perspective of someone who attended. It instantly had me transported back to the previous Loop summits I was part of. So if you haven't been, this long, but entertaining article by Nicole should give you a very good idea of the experience.
Friday, November 9th
"You can't do it all." Sage advice from Dennis DeSantis, the brilliant author of Making Music: 74 Creative Strategies for Electronic Music Producers and official Welcomer of the Loop conference at the famous Montalban Theatre in Los Angeles, California.
He is right; on my official Loop app, I keep finding topics that pique my interest but overlap with other events I want to attend. I keep his advice in mind and try to plan for flexibility.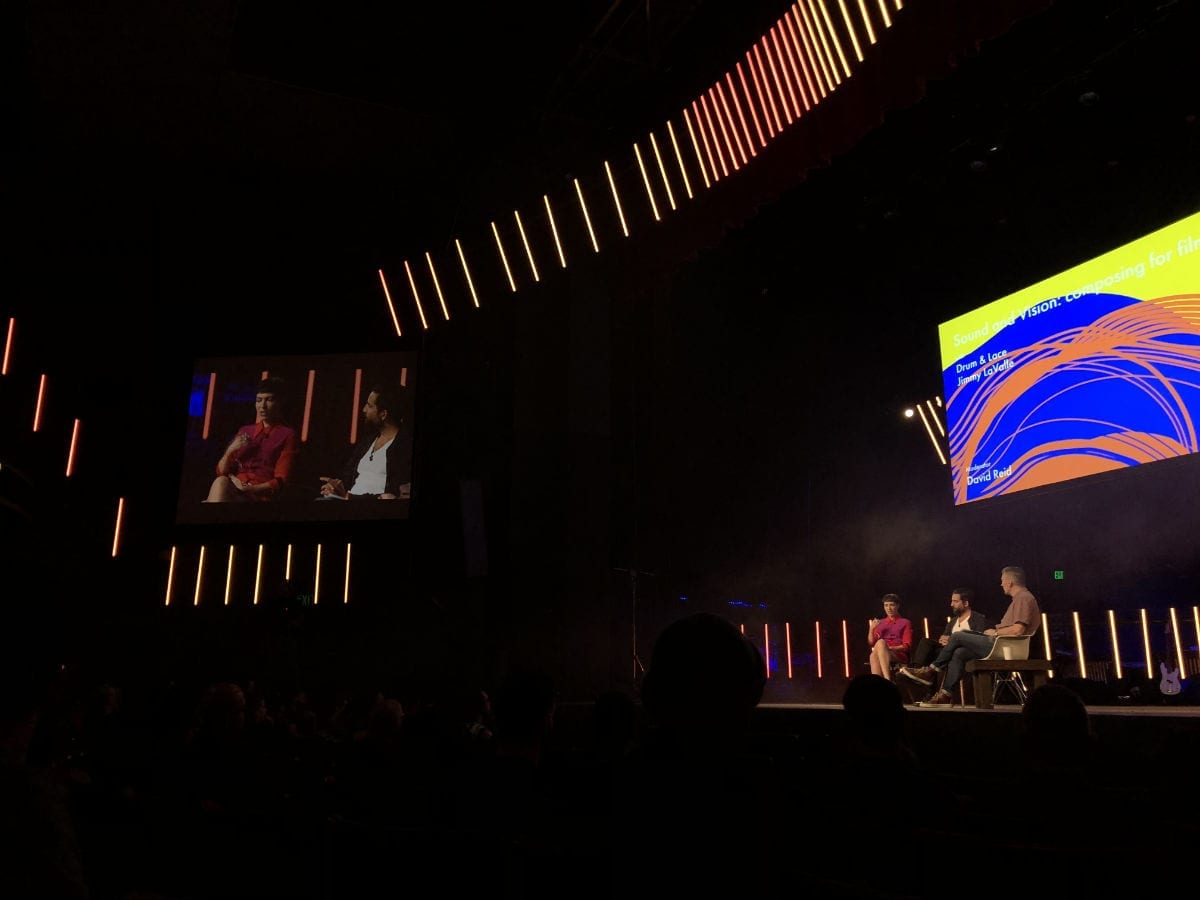 Sound and Vision: Composing for Films is the first event I attend. Drum & Lace and Jimmy LaValle speak with moderator David Reid about what it's like to compose music for film: the intricacies of sampling, forging and keeping relationships with directors and writers, how to use different source material to set moods, etc. Jimmy LaValle had sampled his son crying— an innate human expression of pain, longing, want. He pitch shifted this sample and added synthesis to create a distinctly dark, gritty synth sound. Layering these notes into chords, he sets the scene for the dark indie romance "Spring".
Sophia of Drum & Lace uses synth sounds and layers a human voice to create an emotionally moving piece behind a climactic scene of the documentary "Love and Bananas," a documentary about elephants' conservation in Thailand.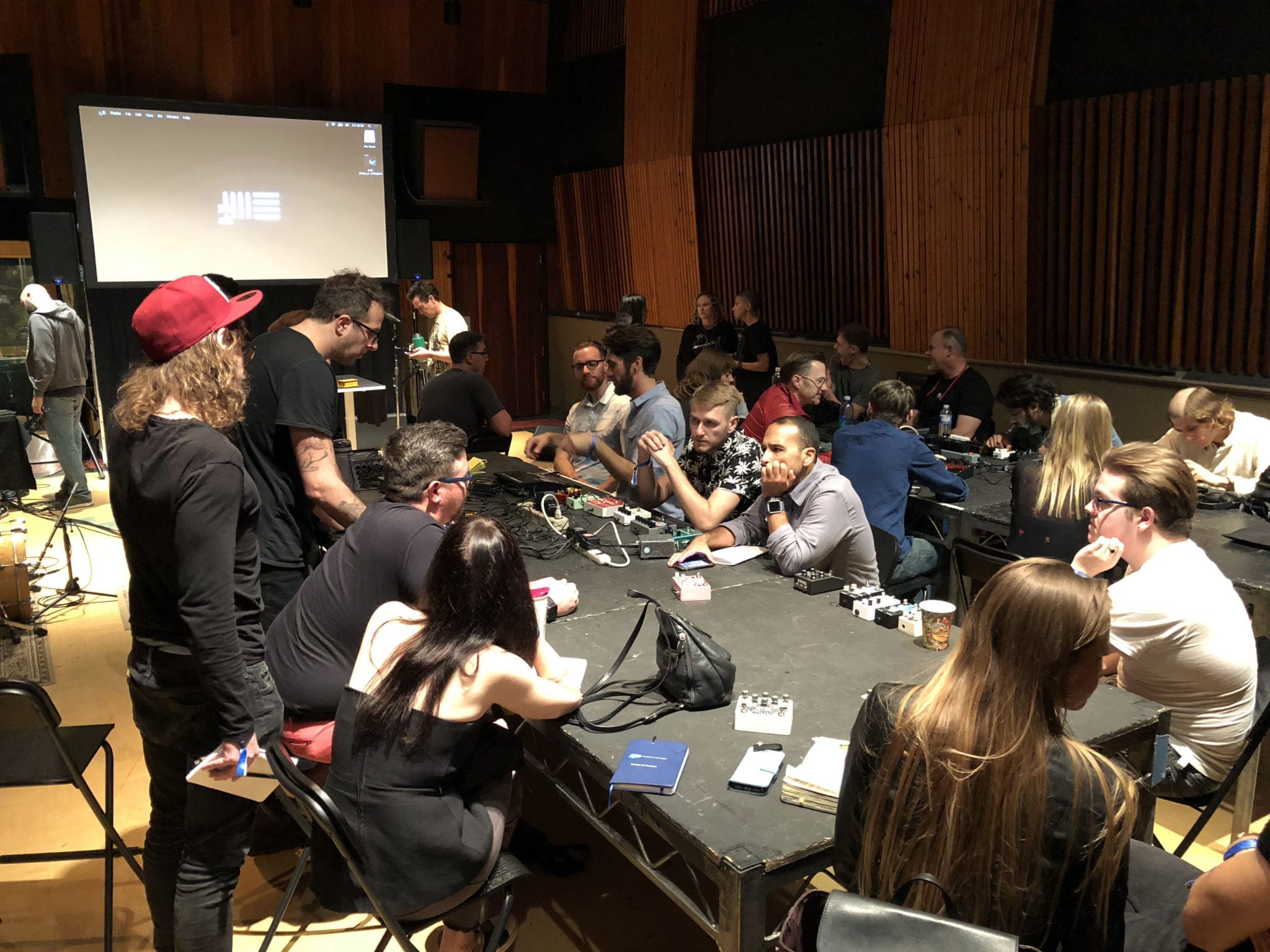 Next, I head over to Guitar Pedals as Sound Design Tools. The workshop is held by Dustin Ragland in the world-renowned EastWest Studios in Hollywood. Dustin is an adjunct professor of Music Production at The Academy of Contemporary Music at The University of Central Oklahoma, certified Ableton trainer, and analog pedal enthusiast.
He is talking about improvising, as a drummer, with a chain of analog effects pedals. He has just set up a percussive delay and tweaks the delay time, which causes a percussive eighth note repeat to kick in "I interpret that, in the moment, just by not thinking too much about what I'm trying to do to improvise with these pedals."
Good advice. Thinking on the fly is not analyzing on the fly. When improvising, we must use the skills we have already honed, to musically react to the things around us.
"This is a whole world of composition working with electro-acoustics. Usually it's like 'oh yeah! A Stockhausen score! It looks like boxes and notation and staff'… but what I want to think about is how this acoustic sound in the space also combines with the sound that is coming out of the pedal(s). Not only is it the sound that's been processed, but also the sound that is coming out and filling the space. If you're in a space where you can not only use a reverb pedal but also think about the actual acoustic space that you're in to be able to have that be a part of your sound as well…"
Space as part of "your" musical timbre: this is something so situational, it is impossible to notate in a score or really concretely explain. We rely on our previous experiences to help guide us to achieve a sound we want in any given space at any given time. Where the line is drawn between "noise and music" is a fine one (and some may even argue— a line that does not exist). To consider atmosphere/venue as part of "your" sound is drawing an even finer line between the "space/noise/music" relationship(s). I continue to think about this during the workshop…
"Thinking about the technical aspect of things… the simplest thing is to patch a guitar into a few pedals and put that into an amp. This is a nice little closed system where all of the levels and impedances work with one another. You know what you're expecting and you get what you're expecting. But the minute we start taking microphones, putting that into a microphone preamp, and then sending that at a line level output… that's going to be a lot hotter than what the pedals are expecting, there's three different things that need to happen to help that to come down. If you have just a simple mixer in your set up, you can use that to attenuate the levels, but the impedance