Today's post is number 100. Woohoo! Let's celebrate it with an exclusive interview with Christian Kleine, Max for Live developer at Ableton and creator of the DrumSynth. His Max for Live device already got a lot of praise on the Live 9 beta forum. Time to learn more about its creation and get some special tips on how to make good use of it from Mr. Kleine.

The DrumSynth was your idea. How did you come up with it?
I am a long-time friend of old hardware drum synths and drum machines such as the Pearl Syncussion or the old Simmons SDS-5/7 modules. In addition, there were relatively few "real" software DrumSynths, at least on Mac. Originally I wanted to reprogramme the Ableton Impulse with synthesis modules. My colleague Daniel Büttner then gave me the idea to create separate modules for the Ableton Drum Rack.

Can you tell us something about the individual instruments? What comes with it? What was important to you to implement?
There are currently 13 different devices. The important (kick/snare/hi-hat/tom) as well as the exotic (Kplus and FM) are all represented. "Kplus" is called this way because here the "Karplus-Strong" synthesis is used – David Zicarelli (CEO of Cycling '74, the creators of Max) jokingly said that this was also the best and only purpose of this synthetic form… Basically, most important for me, next to the sound, was a very dynamic control using velocity data – therefore, this section is quite extensive in every device and almost every parameter can be played dynamically.
Christian created a special demo for us (DrumSynth only):
Maybe a few insider tips on working with the DrumSynth?
Three things come to mind spontaneously:
excessive use of session automation can lead to incredible results
'Hybrid-Kits': the layering of acoustic drums with the DrumSynth Devices is very interesting
the pseudo-tonal play of devices (e.g. kick or Kplus). In most DrumSynth Devices you will find a "Keyboard" switch in the velocity zone routing
What do you think is a good approach if you want to learn Max for Live?
First of all, learning Max for Live is to learn Max, there is almost no difference. Max has very good integrated tutorials that are virtually mandatory. Otherwise, I recommend the "reverse engineering" of devices and patches to understand the structure and elements. Some patience is necessary, learning Max takes time. But it offers many possibilities – it really pays off afterwards. The beauty of Max (for Live) is that almost everything is modifiable and changeable by anyone and can be adapted to your own needs.
The Kick Inside (click on the image to see it in a higher resolution):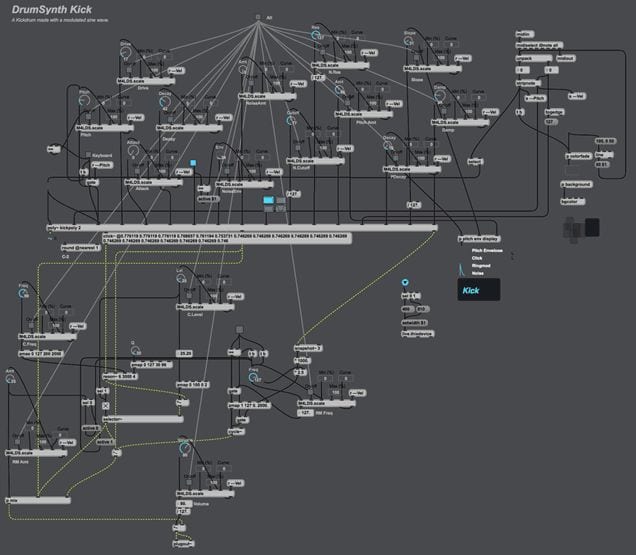 For anyone not familiar with Christian Kleine's music, you can hear his love for analogue synths on every track as well:
Have you tried the DrumSynth yet? What do you think?