With the release of Live 9.5 we also heard about Link. The new and ingenious way of syncing Ableton Live instances on different computers as well as apps supporting the technology when running on the same wi-fi network. Even without Live running.
If you're part of the beta programme, you've been using Link already. For everyone else, it's out now as part of Live 9.6. It comes as an automatic update, unless you have those turned off in the preferences.
This is where you can turn on Link: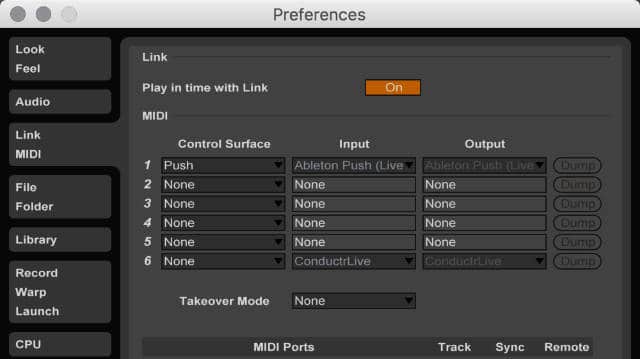 And where it shows it's on:

Also new in Live 9.6:
Python framework hupdated to support Python 2.7
control surface support for the Arturia KeyLab series, Arturia BeatStep, Arturia MiniLab and the Alesis VX series
Warp mode specific parameters in Simpler are now updated in real-time
random clip colours are back
New for Push:
activate Global Record on Push by holding Shift and pressing Session Record

'Mute', 'Solo' and 'Stop Clip' can be locked by holding the respective button

touch strip can work as Pitch Bend or Modulation Wheel in Simpler and 64 pad slicing mode
improvements to Scale workflow
There are plenty more improvements for both Live and Push. Check them out in the Live 9.6 release notes.
Link in action:
Which feature or improvement is your favourite one?