This week I've been checking out various Max for Live devices for you that were made to add to or improve Push's functionality. Here are the ones I liked best.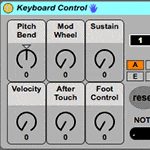 Keyboard Control
Adds Mod Wheel, Sustain, After Touch, Foot Control, Patch and Bank selection, mod reset and panic buttons as well as note and MIDI CC display.
Putility
A similar, but simpler device, that when placed before a synth gives you a knob for Modulation wheel (cc01) and another knob to scale aftertouch from 127 to zero.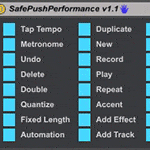 Safe Push Performance
This device provides the ability to individually disable potentially dangerous or useless buttons on Push during a live performance.
Download Safe Push Performance
Audio Clip Trimmer – Push
A little helper tool to make trimming audio clips with Push (or other midi controllers) easier.
Download Audio Clip Trimmer – Push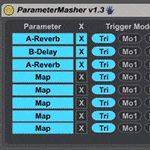 Parameter Masher
Gives you the possibility to send 64 fixed values to 8 possible parameters by one of three triggering modes (two different momentary ones). It also works with other MIDI controllers.
Which Max for Live device is your favourite? Any good ones that should be included?
This way for heaps more Max for Live devices & tips.