Hard to believe, but Sonic Bloom already turns 3 today. A big thank you to everyone who's been following this blog, registered or got one of my courses or Max for Live Packs by Max for Cats. Thanks as well for joining me on Twitter, Facebook, Google+ and YouTube.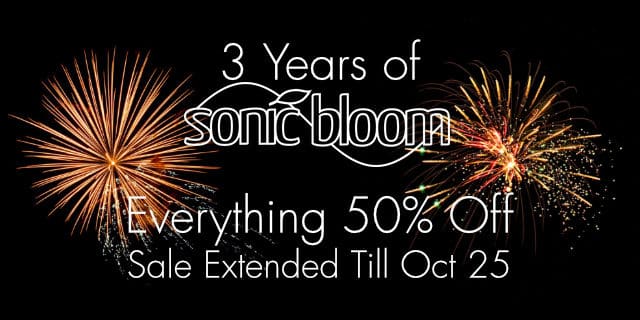 It's been three amazing years, with many tutorials, freebies, news, reviews and so much more. The big 500 is coming closer and closer in terms of blog posts. Feel free to go back to the archives. There are plenty of up-to-date articles to find there, but don't forget the future … I've got many things planned, even though some of them have to be postponed to the new year, because I had become quite ill. So stay tuned.
To celebrate with you, we've slashed all prices by 50%. Yes, you've read that right. From today until this Friday, October 23, all courses, Max for Live packs and all bundles are available at half price. You can grab some fantastic Max for Cats Live Packs from as low as EUR 5/USD 7. Courses start at just EUR 10/ USD 14.50.
Check out all instructive courses and course bundles and don't forgot to browse through the awesome Max for Live Packs by Max for Cats, while you're looking around.