Push allows you to simply switch between scales, even exotic ones. If you don't have one, but still want to use this functionality, then you should try the Max for Live MIDI effect "16 Scales".

It's a MIDI preset bank with 16 scale types that is similar to the Scale effect in Ableton Live. Unlike Live's MIDI effect, "16 Scales" will play scale degrees without repeating notes. It defaults to MIDI note number 0 (C-2) and covers a 16 note range.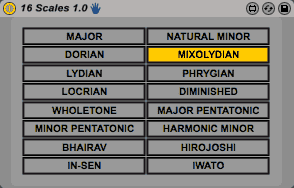 Simply drop it into the MIDI track before the instrument and choose the preferred scale. If you'd like to use even more exotic scales, you can create your own.
This way for heaps more Max for Live devices & tips.