I also have a tutorial to make your own themes for Live 10 or 11.
I'm quite often asked how you can make your own skins for Ableton Live or if I could make a very specific one. Now Sonic Bloomer Emanuel Marius Becker has taken the time to create a guide for the free Max for Live Skin Editor. I have just polished his work and translated it, so that you can make use of it as well.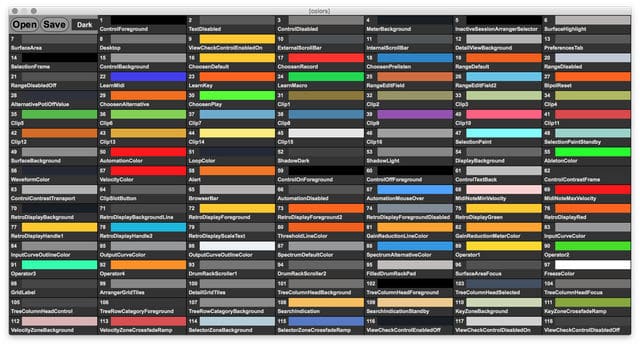 Max for Live is needed to use the Skin Editor, but the editor is available for free.
How to Use the Max for Live Skin Editor:
It's best to add the file 'Ableton Live Skin Editor.amxd' under User Library/Presets/Audio Effects/Max Audio Effect.
The default skin should be loaded in the Live Preferences under Look/Feel before you drag the Skin Editor into a track. Only this skin or skins created with the Skin Editor can be used as a basis for creating your own skins.
If you click on 'Colors' in the Skin Editor, the surface with all the changeable colour appears. Since the names are partly quite abstruse, you can download the free PDF file that shows which elements in Live can be modified with specific colour fields in the editor.
Clicking a colour swatch opens another window, where you can change the colour value.
Skins can be loaded with 'Open' and saved after editing with 'Save'. However, the file extension .ask must be entered manually.
Here's the recreated Disco skin that can be used as a basis for creating your own as it's editable. Courtesy of Jonny Litten.
If you this is all too much work, you can of course also use one of the many free skins I've made.