MSE Synthesizer System by Max for Cats
The MSE system brings classic technology and the associated playing style into the modern computer age.
The MSE Synthesizer System consists of three components: the synth module, the Quad, four of the MSE synths stacked together, and the SEQ8, a step sequencer.
MSE Synthesizer Module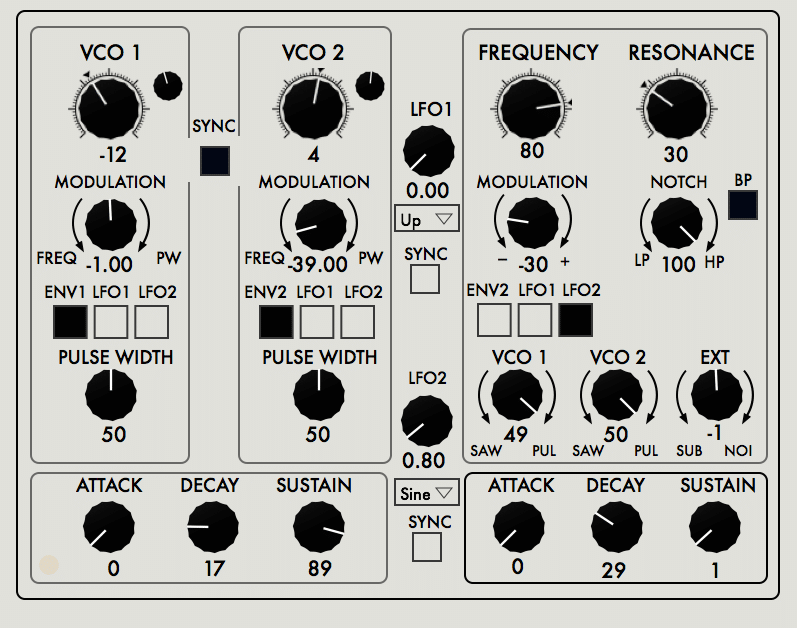 The MSE Synthesizer module is a small but very powerful and versatile high quality synth. It can be played in mono mode or 8 voice polyphonically.
Mono or 8 voice poly mode
Glide/Pitchbend
2 oscillators (saw/pulse with PW)
Oscillator sync for pulse wave
Multimode state variable filter with LP, notch, HP and BP
2 LFOs with several waveforms, sync or free running
2 ADS envelopes
A sub and noise oscillator
Several modulation targets
Quad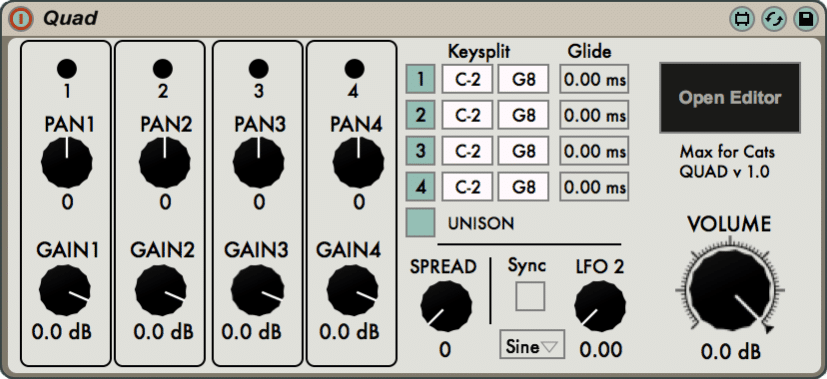 The big Quad is four of the MSE synths stacked together and each MIDI note will sequentially play one of the four MSE modules - just like the old 1975 Four Voice Synthesizer from Oberheim. Each module can have it's own key split and can be programmed fully independently. A Unison mode will play them all together for ultra-phat bass or lead sounds.
4 MSE modules
Keysplit for each MSE
Individual glide for each MSE
8 oscillators
Oscillator sync for pulse wave
4 multimode state variable filters with LP, Notch, HP and BP
8 LFOs with several waveforms, sync or free running
8 ADS envelopes
4 sub and noise oscillator
Several modulation targets
SEQ8
And finally, the SEQ8 is an analogue style step sequencer with 8 steps, swing, integrated MIDI scaling and Map function. The pattern can be transposed with incoming MIDI notes. This sequencer can be used with any synth, be it software or external hardware synths.
Sync or free running
Key transpose
Randomise for each row
1- 8 note steps
1- 8 octave steps
1- 8 velocity steps
1-8 map steps for free parameter mapping with smoothing
Swing
Note scaling
Direction: FWD (forward), BWD (backward), BAF (back and forth), ALT (alternate), RND (random)
Step mutes
Demos:
What you get:
a self-installing Live Pack with integrated lesson in Live's Help section
including presets
System Requirements:
Live 9.5 or higher
Max for Live 7
OS X or Windows
*All prices are final; if applicable, sales tax is included in the price in accordance with the tax laws of the buyer's country of residence. Payment via credit card (Visa, MasterCard or American Express), PayPal, Alipay, Bancontact, Giropay, iDeal or Sofort.
Exchange rates for prices in US Dollars may vary. Based on ECB reference rates.
Max for Cats is the outlet of Christian Kleine, who has been creating and curating Max for Live content for Ableton since 2012. Christian Kleine has released many free devices on his own website and via MaxforLive.com.