Max for Cats Delay Bundle
The time shifting of an audio signal is one of the most powerful and effective sound treatments ever invented. Traditionally, delay effects have been used for drastic and dramatic audio treatment - from BBC's Radiophonic Workshop to Jamaican Dub music to British post modernism (e.g. Autechre). Max for Cats offers a fresh approach with three exciting Max for Live delay devices, "Grain Relay", "Skram Delay" and "Stochastic Delay".
Grain Relay by Max for Cats
Multi-dimensional Granular Delay Processor.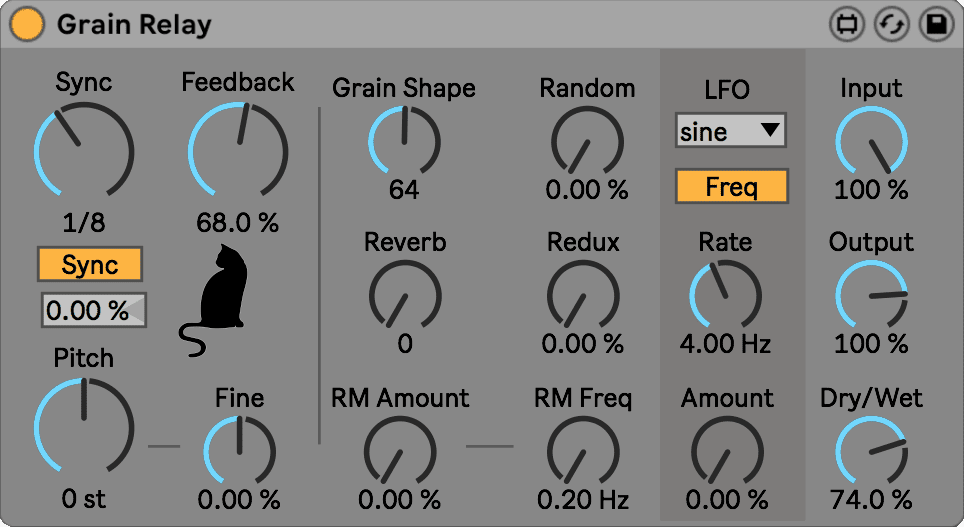 Grain Relay combines a granular delay, pitch shifting, reverb, downsampling and ring modulation in a single, easy to operate device. The blending of all these effects can transform your music into multi-facetted dimensions.
BBD delay-style effects and famous 70s pitch shifters all united
Whether you're a sound explorer or just looking for a special sonic touch on your productions, Grain Relay offers a vast palette to dial in various flavours of sound processing.
BBD delay-style effects or the famous 70s pitch shifters are all united here, to be used with ease. Perfect Live and Push integration of Grain Relay makes it easy and fun to explore the various styles. Add a shimmer to your instruments, create ghostly sounds, make your beats sound more industrial and brutal, or fully transform your sound sources beyond recognition.
Modulate the pitch of the delay with eight LFO waveforms
Define the length of the delayed signal either in beat divisions (Sync mode) or time units (Free mode). The higher the feedback setting, the more repetitions of the delayed time you will hear. Downsample the signal and dial in additional overtones with ring modulation.
Pitch the delayed signal down or up, affect the grain size and how the sound is changed by the Pitch Shifter with Grain Shape. The versatile LFO lets you modulate the pitch of the delay with eight different waveforms and intensity.
You can also add a random panning effect, reverb and level the input, output and the Dry/Wet balance to round the sound off.
Grain Relay Features
Granular delay
Pitch shifter
Reverb
Downsampling
Ring modulation
LFO with a choice of 8 waveforms
Randomised panning
A collection of factory presets
40 EUR (approx.

47.42 USD

)*
Skram Delay by Max for Cats
Glitch delay sounds at your fingertips.
Skram Delay lets you dial-in various flavours of delay randomness. From subtle changes such as slap-back or cardboard echoes to complete sonic chaos, it's all possible with Skram Delay. Its speciality are 'instant glitch' sounds.
Watch the video to see what's possible with Skram Delay:
Modulated delay sounds in stereo or on the individual channels.
Skram Delay is a dual channel delay with modulated delay times. Each channel can have complete independent settings but they can be linked on demand.
With the Link button activated, each channel change will happen on both channels with the exception that the pan changes are reversed - if you move one channel to the left in link mode, the other channel will move to the right side of the stereo spectrum.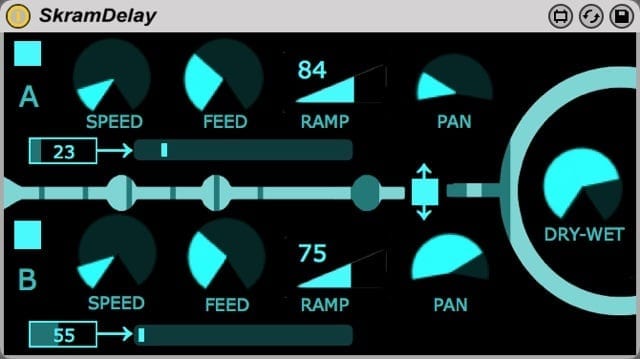 As random as you like.
The 'Ramp' labelled parameter will interpolate between the randomised delay times to achieve a unique glitch effect. The Feed parameter (feedback) will control the amount of audio which is routed back into the delay line while the Speed parameter defines the speed of the 'randomness'.
Push and controller ready. With a distinctive look.
The unique interface, which is pre-mapped and ready to use with Push or any other MIDI control surface, makes the Skram Delay not only sonically but also visually stand out.
Changelog Skram Delay Version 1.2:
compatible with Live 10
fixes: output gain was too high