Falls Du dieses Jahr bei Ableton Loop warst, hast Du möglicherweise bereits dieses neue Fußpedal kennengelernt, das speziell für Ableton Live entwickelt wurde, weil es, wie ich gehört habe, einiges an Aufsehen erregt hat. State of the Loop von KB Devices wurde von Pierre-Antoine Grison geschaffen, nachdem er einem Künstler geholfen hatte, der den Wunsch geäußert hatte, Live als Looper einsetzen zu können, ohne jedoch auf den Computerbildschirm schauen zu müssen. Pierre hat nun ein Kickstarter-Projekt für 200 Einheiten von State of the Loop gestartet, einen Controller für Ableton Lives Looper, was aber noch viel mehr kann. Das Kickstarter-Projekt läuft noch bis Freitag, den 7. Dezember, die Early Bird Pledges sind allerdings bereits weg.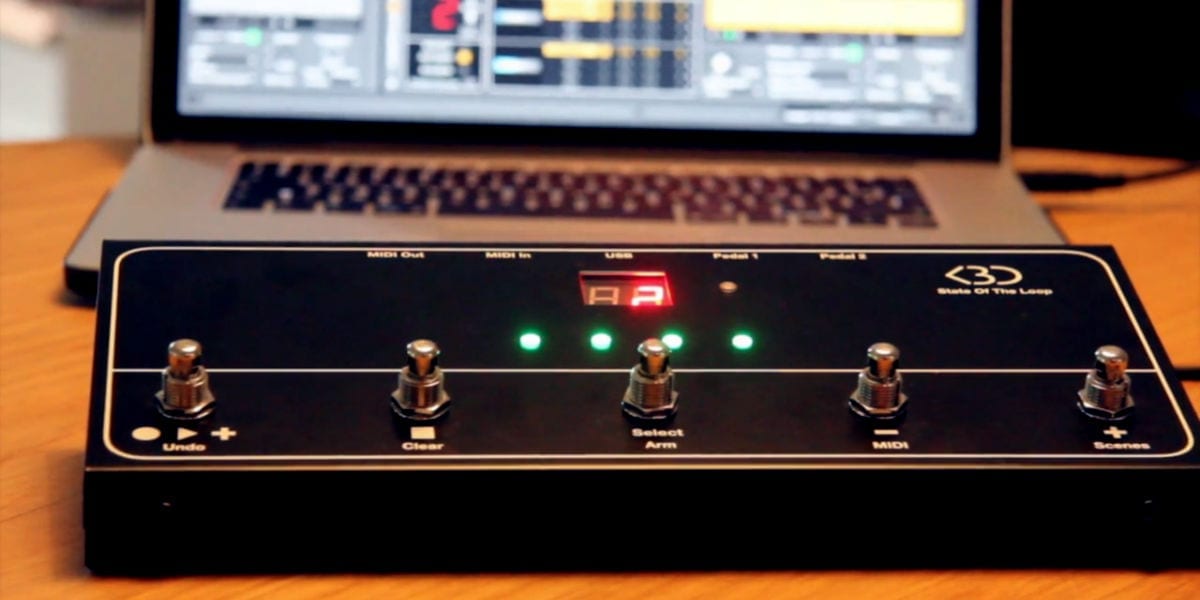 Was kann State of the Loop? Es kann mehrere Looper-Instanzen in Live steuern, Clips direkt in der Session-Ansicht aufnehmen, Szenen starten und eine unbegrenzte Anzahl von Parametern in Deinem Live Set steuern. Im Grunde ist es also die perfekte Lösung für alle, die Live als einfach zu benutzenden Ersatz für einen Hardware-Looper verwenden möchten und/oder Ableton Live über ein Fußpedal steuern möchten, da sie freihändig sein wollen oder müssen.
Aufnahme mit Lives Looper:
Steuere eine unbegrenzte Anzahl von Loopers
Zeigt den Status jedes Looper an (Rot = Aufnahme / Grün = Spielen / Blau = Overdubbing / Stoppen mit einem Sample = Weiß /
Leer gestoppt = Aus)
Aktiviere die Spuren, indem Du die

[Select] -Taste gedrückt hältst

Clips direkt in der Session-Ansicht aufnehmen:

Wähle eine beliebige Spur aus (Audio oder MIDI)
Starte die Aufnahme direkt im ersten verfügbaren Slot
Option für die Aufnahme mit "fester Länge"

Szenen starten:

Wähle mit den Tasten [+] und [-] Szenen aus
Starte Szenen und zeigen deren Farbe und Namen an
Springe mit der [Select] -Taste zur aktuell laufenden Szene

Parameter steuern:

2Eingänge für Expression-Pedale mit "dynamischem Mapping"
Jedes Gerät steuert seine eigenen Parameter
Steuere eine unbegrenzte Anzahl von Parametern mit nur 2 Pedalen

Spezifikationen:

Robustes Metallgehäuse
USB-betrieben
USB- oder MIDI-Verbindung für längere Entfernungen (bis zu 15 m)
Einfache Konfiguration / geringer CPU-Verbrauch
Einstellbare LED-Helligkeit
Gewicht: 1,7 kg
B × L × H: 30 × 13 × 6 cm / 12 × 5 × 2,5 Zoll
100% Made in France

Guck Dir das Demo-Video an:


State of the Loop benötigt Ableton Live Suite, da es Max for Live nutzt, um den Fußcontroller so tief zu integrieren. Der Versand wird voraussichtlich im März 2019 erfolgen. Du kannst einen State of the Loop-Controller für 260 € oder eine von 30 wunderschön gestalteten limitierten Editionen für 350 € (oder nur 300 € am schwarzen Freitag) erhalten, indem Du Dir ihn im Kickstarter-Projekt sicherst.